Products
REHAU has introduced its first two-part retrofit window sill as a preventative solution against 'one of the most frequent snagging issues known to delay building completions.'
Read More
ODL EUROPE has launched Zeel, a new cassette constructed from FiberMate Plus.
Read More

Fabricator Focus
Former Polyframe directors Peter Dyson and David Eagle have emerged heading a new start-up fabricator working with Kömmerling with over £1million invested in capital equipment with the initial target of producing 2,500 frames a week at a base in Norwich.
Read more
Projects
Products from Pilkington installed by Vitrine Systems were used in the development of Abbey Wood station by Network Rail as part of the Crossrail project.
Read More
Around 200 SPECTUS Flush Tilt & Turn Windows were specified and installed in the construction of 44 social housing properties for Crawley Borough Council in a contemporary interpretation of the Crawley 'new town' style.
Read More
More than 500 Optima Flush Casement windows were installed by Profile 22 Approved Contractor KINGFISHER WINDOWS in a private housing development in Whalley Range, Manchester, for main contractor Lane End Group.
Read More
TECHNAL MX62 curtain walling system was specified when Dortech required a curtain walling system for the University of Central Lancashire's (UCLan) Engineering Innovation Centre in Preston.
Read More

Awards
Aluprof UK is again sponsoring the Building Awards, to takes place at the Grosvenor House Hotel, London on the 5th November.
Read More
REHAU has been shortlisted for two National Fenestration Awards, in the PVC Company and Systems Company categories.
Read More
Home improvement finance provider IMPROVEASY was judged 'highly commended' in the National Energy Efficiency Awards, finishing runners-up in the 'Provider of the Year' category.
Read More
Doors
DISTINCTION DOORS has added ten new style variations to its existing Rustic Renown Collection, each featuring the characteristic of vertically grooved panelling.
Read More
Gloucester-based aluminium fabricator
CDW SYSTEMS is now to manufacture fully-fabricated Crown and Dualframe door sets from Sapa: Technal following the supplier's decision to withdraw the kit form of the products.
Read More
Events
Edgetech, known in China by the name of its Quanex parent company, is to attend the 23rd International Passive House Conference in China.
Read More
September saw PIGS trotting up to Scotland for the third year running, with the Glasgow event in St Judes bar proving more and more popular with each visit.
Read More
Marketing
ULTRAFRAME has launched its new G19-nominated digitally rendered video showing a step-by-step Ultraroof roof replacement for installers to show potential customers the benefits of the system.
Read More

Training
The work done by the industry's Employers' Trailblazer group in developing a brand new suite of apprenticeship standards specifically for the fenestration industry has been officially recognised by Sir Gerry Berragon, CEO of the Institute for Apprenticeships and Technical Education.
Read More

Mountainous loss
It's fair to say the last couple of years have not been good ones for the national installers. With Safestyle still dragging itself out from the bloodiest battle in the industry's history and a veil of silence still hung over the fortunes of Zenith and its Kairos/Clearwin stablemates, we now hear of a mountainous loss befitting the name of Everest, albeit with a spirited defence of special circumstances from the directors. Some of the more forward-looking fabricators have of course been forecasting the decline of this once-dominant sector for some time but it was easy – maybe too easy – for us to think 'they would say that, wouldn't they'. Now however, their words are beginning to carry a little more weight and there is little doubt that a bigger slice of the future is in the hands of the medium-sized players along with the systems houses' own installer groups. Read more

Elsewhere this week, the Queen's Speech may have been the usual pre-election jam-tomorrow message but some of the industry's support bodies have been quick to cheer on the promise of better standards of safety and integrity. Read more
Meanwhile, as we all wait with bated breath to watch the fate of the nation unfold in the remaining days until Halloween, we hope there is something in this issue for everyone.
Chris Church
Editor
Please send all your news stories to news@the-glazine.com
This Week's News
Everest posts £9m loss
on falling sales – despite 'strong demand'
Everest Ltd has cited supply chain problems and 'competition for install manpower' in 2018 in recording a £9.3million operating loss on 7% drop in revenue to £105million, adding that it looks to return to profit 'with support from its main shareholder'.

Read more
UAP Group acquires Intelligent Hardware
Door Hardware manufacturer UAP Group last night (Oct 14) announced it has completed the acquisition of Intelligent Hardware Ltd, the latest in a number of acquisitions in recent years, along with the promise of more to come in the next two years.

Read more
Campaigners welcome Queen's Speech – but renew call for licensing
The Queen's Speech at the opening of parliament has earned a guarded welcome from industry bodies – and also sparked a renewed plea for mandatory licensing for construction companies.

Read more

Alan Fielder swaps Edgetech for a house
on the beach
Alan Fielder, Edgetech Sales & Marketing Director has announced he is leaving the company after twelve years, looking forward to 'our little house on the beach' and the prospect of some consultancy work.

Read more
FENSA backs BOS
skills campaign
FENSA has joined forces with Building Our Skills to promote its 'Inspiring The Future' campaign launched to introduce fenestration to schools and colleges.

Read more
GQA acquires polymer award body
Fenestration awarding body GQA Qualifications has announced the acquisition of PAA/VQ-Set, the awarding body for the polymer, engineering, chemical, pharmaceutical and nuclear industries.

Read more
PHOTO FEATURE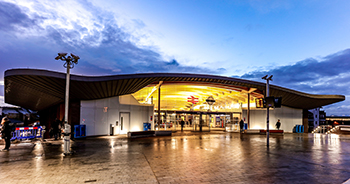 The development of Abbey Wood station by Network Rail as part of the Crossrail project.
Read More
Deadline:
Editorial submissions intended for the next issue should reach us by noon, Tuesday please.
to subscribe... click here
Missed the Last Issue? Click Here
People
Insight Data has appointed Carley Fisher as Business Development Executive.
Read More
ERA has appointed Sumier Foster-Shah as Customer Support Manager for Smartware.
Read More
Obituary
Former colleagues have paid tribute to Michael Glover, the founder of Edgetech and co-inventor of its flagship Super Spacer, who died last month, aged 72.
Read more
G19 Awards
From now until the event, on 29 November at the London Hilton on Park Lane, we will publish a special G19 Awards page listing all of the stories relating to the awards. VIEW PAGE
The most recent stories are listed below:
Business Micros is celebrating its 40th anniversary by returning as one of the main sponsors of the G19 Awards.
Read More
GLASSOLUTIONS is a finalist in two categories of the G19 Awards, Commercial Project of the Year.
Read More
Carmarthen-based window, door and conservatory company NOLAN UPVC has been nominated as finalists at this year's G19 Awards.
Read More
REHAU has received two nominations at this year's G19 awards, in the New Product of the Year and Sustainability Initiative of the Year categories.
Read More
Machinery
PROMAC has marked Vitrum 2019 the glass machinery expo by unveiling four new supply agreements as well as a series of new strategic associations agreed at.
Read More
North East Bifolds, based at Seaham, near Sunderland chose a KOMBIMATEC AMC308 machining centre on a last-moment change of mind after seeing it in operation, say directors Tony Meah and Chris Craggs.
Read More
Planet Roofing has invested in a second computerized saw from Haffner Murat on the strength of the first it bought earlier this year.
Read More
Hardware
Door and window hardware supplier COASTAL GROUP has launched the new DuraTique antique hardware range.
Read More

Charities
Ten VEKA UK employees are getting set to spend a night under the stars when they join the Turf Moor Sleepout at the Burnley FC pitch to raise money and raise awareness of homelessness in the area.
Read More
Security
EVERGLADE WINDOWS has announced int is a launch partner for the Ultion Smart lock, offering the lock on a variety of its doors.
Read More
POLYFRAME says the Yale Rapide lock is now available as an option across its entire range of PVCu windows on any of the five systems it fabricates.
Read More

Certification
QA Scheme Support Services, which oversees Alternative Dispute Resolution for the DOUBLE GLAZING AND CONSERVATORY OMBUDSMAN SCHEME have been ranked as having the fastest resolution times in the home improvement industry.
Read More

Organisation
AluK was host to the latest IFO Academy training course at its base in Chepstow, where twenty six delegates were offered training and updates to the latest, sixteenth edition, of the QUALICOAT standard.
Read More
Glass
AGC is bringing two new solar control coatings to market: Stopray Ultra-70 on Clearvision and Stopray Titanium 34T.
Read More