Products
RENOLIT has added Sage to its Exofol PX range of exterior films.
Read More
Timberweld licensee MASTERFRAME is introducing new specification Authentic Collection.
Read More

Fabricator Focus
CWG CHOICES has signed an exclusive five-year deal with profine UK, for the supply of a range of Kömmerling window and door systems.
Read More
DEKKO WINDOW SYSTEMS is celebrating the success of its recent Residence Collection Open Day where the team took over the Residence Collection showrooms in Gloucester.
Read More

Projects
Morley Glass & Glazing has completed a £500,000 installation of integral blinds specially developed for the project at Belfast City Hospital's new Acute Mental Health Inpatient Unit.
Read More
A 51-foot wall of Pilkington Planar glazing helps to 'foster a sense of connectedness' to the David Tepper School of Business at Carnegie Mellon University in Pittsburg, USA.
Read More
Two fenestration systems available under the TECHNAL brand, were used in the creation of a new student accommodation complex on the north side of Lancaster city centre.
Read More
County Windows has completed the installation of 26 windows, two sets of French doors with side screens and a single residential door, all from the OPTIMA system, in a new build detached property in Herefordshire.
Read More
Glazing products from Sapa: Technal, fabricated by CDW SYSTEMS were installed by Alfram as part of the £5million refurbishment of the Sixth Form Centre of Excellence at Cleeve School at Bishops Cleeve near Cheltenham.
Read More
Awards
CMS WINDOW SYSTEMS has been named the winner of the Best of VIBES Award, is an annual programme designed to recognise businesses in Scotland for operating sustainably.
Read More
SWISSPACER has been awarded the 'Passive House Innovation Award' at the Passive House Institute Darmstadt's International Passive House Conference.
Read More
DISTINCTION DOORS has celebrated gaining two nominations in the Be Well@Work Awards run by its home town Barnsley Council.
Read More
A conservatory renovation project earned Ipswich-based SEH BAC a Conservatory & Orangery Award in the Installation of the Year (up to £35k) category.
Read More
VBH has won the Product Innovation category at the 35th running of the prestigious Medway Business Awards.
Read More
Brochure / Video
Composite door and window maker APEER has produced a lifestyle video supporting its new Silka door range.
Read More
EPWIN WINDOW SYSTEMS has released a new 36-page brochure on its Stellar aluminium window and door system for the commercial sector.
Read More
Results
Industry finance specialists IMPROVEASY reports a record 2019 with growth of 138% throughout the year.
Read More
Retail installation business ERG Scotland Ltd has passed £4m annual sales for the first time, marking the end of its first year as part of the Conservatory Outlet Network.
Read More
SupaLite is celebrating a record month in October, adding 20% to its previous record month – including with sales of more than 70 roof kits on one week alone.
Read More

Training
An industrial glass cutting master class hosted by BOHLE as part of its campaign to support industry up-skilling was attended by more than 20 glass processing and IGU professionals.
Read More
CMS WINDOW SYSTEMS is working with its local North Lanarkshire Council as part of a new initiative to provide a vocational environment for school leavers to make the transition into the workplace.
Read More
The real jewel
The Champagne bottles are all cleared away, the gowns and tuxes are back in the wardrobe and a dozen trophy cabinets are glowing with the pride of yet another of the top awards showing yet again what the best in the industry can do when they are inspired.

Yes, the figures for attendance as well as the number of entries were higher than ever but, as Tony Higgin, organiser of the event as well as publisher of The Glazine, put it – the real jewel in this 16th annual event was the standard demonstrated by the submissions.
"And that goes beyond the actual winners," he added, "because all the feedback from the judges was that many of the finalists were so close that they really have no shame in being runners-up."
We may expect to hear much more from the individual winners in their own words in the couple of weeks to come but it remains only for us to congratulate every one of those who took part and we look forward to seeing what next year has to offer.

And in the meantime, we hope there is something in this issue for everyone.
Chris Church
Editor
Please send all your news stories to news@the-glazine.com
This Week's News
What a night
What a night it was when a record crowd of over 600 cheered a dozen more of the best of the best, chosen from the biggest cache of entries in the event's 16-year history – all adding up to yet another vintage year for the industry's top awards event.

It was a double celebration for Epwin Window Systems and CMS Window Systems, both taking home two trophies, while some new names joined a few old hands at the trophy table to share the glory of the remaining categories.

Read more
Rice to retire as GGF MD
The GGF has today announced that Steve Rice is to retire as MD after being appointed to the post in July following over 30 years with the organisation.

The former Technical Dir4ctor, who became MD following the sudden departure of Kevin Buckley, said in the announcement that he had intended to leave earlier this year but decided to postpone it to see the organisation through the transition following the changes.

Read more
Competition changes
end Glaston – Hegla partnership
Glaston Corporation this week announced a mutual decision between its Bystronic Glass subsidiary and Hegla to terminate their cooperation agreement, citing changes in the companies' competitive positions as the reason for the decision.

The agreement, which was entered into by Bystronic Lenhardt GmbH, Conzzeta AG, Hegla GmbH & Co. KG, and Lewag Holding AG, will be terminated by the end of the year.

The two entered the cooperation agreement in 2012 with the purpose of becoming preferred partners, enabling cooperation in the cross-selling of products for the architectural market as well as making use of each other's sales and service network.

Read more

Fensa launches
insurance package
Fensa has launched Fensa Business Insurance Services to offer a range of insurance products to its approved installers.

Anda Gregory, Managing Director of GGF Commercial Group which includes Fensa, said: "Our Approved Installers highlighted to us they were keen on having tailored insurance products available to them through Fensa. We see this as part of our duty to provide industry leading products available exclusively to Fensa Approved Installers and to provide as many support services as possible from a single, reliable and trustworthy source."

Fensa Business Insurance Services is a trading name of Jelf Insurance Brokers Ltd and is offering a range of insurance policies tailored for Fensa Approved Installers that includes Public Liability, Employers Liability, Professional Indemnity, Cyber Insurance, Tools Insurance, Business Insurance and Van/Fleet Insurance.

Read more
Construction down again
UK construction activity fell again in November for the eighth month in succession – the longest unbroken decline since 2012-3 – though the pace of decline was the slowest for four months, according to the latest IHS Markit/CIPS UK figures published today.

However, housing and commercial construction were the least hard-hit, with civil engineering bearing the brunt of the decline, according to the report, which it attributes to a lack of new work as well as exceptionally wet weather, but inevitably coupled with the ongoing political uncertainty.

It also cites side effects including increased price-cutting and non-replacement of voluntary leavers.

Read more
PHOTO FEATURE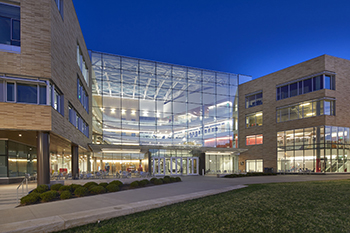 A 51-foot wall of Pilkington Planar glazing helps to 'foster a sense of connectedness' to the David Tepper School of Business at Carnegie Mellon University in Pittsburg, USA.
Read More
Deadline:
Editorial submissions intended for the next issue should reach us by noon, Tuesday please.
to subscribe... click here
Missed the Last Issue? Click Here
Jobs
Independent Network Membership sales consultant.
12 month fixed term contract.
Independent Network is a network organisation representing only the best local uPVC window and door companies in the industry.
Read More
People
Roger Hartshorn's Garnalex aluminium venture has named more of its top team ready for the launch of its Sheerline window and door system early next year.
Read more
Machinery
BDC Aluminium has become the first fabricator in the UK to invest in a new 4-head Ever Theta frame crimping machine from Fom, supplied by UK authorized supplier PROMAC GROUP.
Read More
Trade and retail fabricator Bedfordshire Windows has invested in a FOM Industrie Adir C CNC Machining Centre from HAFFNER MURAT.
Read More
Exhibitions
VISTAMATIC showed its new Clarity smart glass visitors to the recent Healthcare Estates Conference, including architects, specifiers and other key decision makers.
Read More
Hardware
Fabricators could be saving up to £200,000 a year by buying-in cut-to-size reinforcements direct, rather than going through their systems companies and cutting their own, according to research by ANGLO EUROPEAN.
Read More
CARL F GROUPCO has been selected by the Sovereign Group to supply Roto NT tilt & turn fittings.
Read More

Charities
The GM Fundraising women are back in the saddle, promising to top their 2017 Paddle2Pedal triumph with their 2020 challenge, Peak, Paddle, Pedal.
Read more
REHAU employees from all across the UK are now only £300 from their target of raising £12,000 for the UK disability equality charity, Scope.
Read More
Internet / I.T.
Rehau trade fabricator EUROGLAZE is extending its use of First Degree's Window Designer software to enable new customers to log on via the cloud instead of having to wait for a pre-loaded dongle key.
Read More
Eight new product ranges are featured in a new website launched by KENRICK, said to be its biggest to date.
Read More
Leicestershire-based
A14 Glass Rooms
reports sales conversion rates have increased
from 50% to 85% on Real Aluminium windows, doors and glazed roofing products since installing the manufacturer's new online quoting and ordering system.
Read More
Doors
DOORCO reports a continuing upturn in coloured composite door sales with 2019 adding a further 12% growth in addition to the 75% in 2017 to 2018.
Read More
Marketing
Epwin Window Systems is again launching its annual Advent calendar with a prize draw every day from December 1st all the way to Christmas Day.
Read more
Certification
FENSA says it is making joining easier than ever with a new streamlined application format based on a simplified five-step process.
Read More
Security
BRISANT-SECURE is named as the eighteenth fastest growing company in the UK, by the Sunday Times Virgin Atlantic Fast Track 100 published this week.
Read More
Avia by MIGHTON has become the first ever smart lock to have its mechanical security approved by Sold Secure.
Read More
Specification
VEKA UK has launched a new specification guide with over 100 pages on all systems and products within the VEKA, Halo and Imagine brand ranges.
Read More