Products
New from SCHUECO UK is the AWS 75 PD.SI Panorama window, designed for the construction of ribbon windows and as an insert in a Schueco mullion/transom façade system such as the FWS 35 PD.
Read More
SENIOR ARCHITECTURAL SYSTEMS has launched the PURe Commercial Door system, said to be its largest, strongest and most flexible aluminium door system to date.
Read More
THE MILWOOD GROUP has kicked off the new year by officially launching its Heston range of three awning systems.
Read More
Fabricator Focus
Integral blind manufacturer HITECH BLINDS has moved to a new 8,000 sq ft facility, giving it increased capacity as well as the space for manufacture of its new aluminium rooflight blind system.
Read More
Birmingham-based aluminium fabricator FUSION WINDOWS AND DOORS has been acquired by the investments division of Key Land Capital for an undisclosed sum.
Read More
CDW SYSTEMS has extended its range with the addition of the CS 77 flush residential door system from Reynaers.
Read More
Projects
TECHNAL fenestration systems including MX curtain walling were used in the Business School and Growth Hub's new flagship building on the University of Gloucestershire's Oxstalls Campus.
Read More
Kawneer was chosen by Barber Casanovas Ruffles Architects as the preferred aluminium curtain walling system supplier for a £15 million building on St John's Innovation Park in Cambridge.
Read More
The Glazerite UK Group has helped Glass Northampton to create a like-for-like replacement for a 'beautiful but very oldand decaying' single-glazed conservatory in the village of Long Buckby.
Read More
When the British Small Animal Veterinary Association decided to expand its Gloucester headquarters, the contractor on the project Lancer Scott advised on the installation of REHAU Geneo Alu Top windows.
Read More
A walk-on glass floor from TUFFX has added to the natural light to a chapel conversion in the Norfolk village of Brockdish.
Read More
Training
Excellence as Standard, the EPWIN WINDOW SYSTEMS membership programme, has partnered with industry training initiative Pro-Fitter.
Read More
MACKENZIE GLASS, set up as an independent glass merchanting business with the acquisition of Pilkington's Bristol operation from NSG at the end of 2017, has recruited three new apprentices to its team.
Read More
Certification
Swansea-based
AB GLASS has achieved smoke ventilation certification, making it one of only a few firms in Wales qualified to manufacture En12101-2 certified smoke vents
Read More
PVC-U fabricator SHELFORCE has achieved ISO 45001 certification, the new international standard of occupational health and safety which has replaced the OHSAS 18001.
Read More
Hardware
YALE has launched the Verso, a fully reversible window hinge with what it calls easy close functionality.
Read More
Roto's tilt & turn window system, comprising the modular NT face fix hardware and the Designo fully concealed hinge option, has been added to the window and door fittings range from CARL F GROUPCO.
Read More
Organisations
CONSERVATORY OUTLET has added a 'much sought-after location' as well as a new member with the signing of Highlands-based ERG Scotland Ltd to its network of retailers.
Read More
The Door & Hardware Federation has introduced tougher procedures for companies applying to join including an 'affiliate member' status for all recruits before being granted full membership and use of the organisation's logo.
Read more
Fire Safety
A cap-less fire rated curtain wall system has been completed on a refurbishment development in Manchester in what Aluprof believes is a first for the industry.
Read More
Colourful future
The rest of the world may be reflecting the grey days of February with gloomy forecasts of stagnation and worse around the industry but two companies at the top of its supply chain have each brought rays of sunshine to this week's news, and if there is a theme that at least partially links the two it is colour.
First, Epwin tells of very significant expansion plans, not only in the number of extrusion lines but more specifically a 30% increase in foiling capacity Read more. Then, albeit from the rather shorter term perspective of a month's figures, Deceuninck, the acknowledged leader in the promotion of coloured frames, tells us of a very healthy start to the year.
Read more

Elsewhere, the house market has also started the year with a bang as over 52,000 homes went on the market last month – every one of them waiting for a potential buyer with a likely eye on home improvement. Read more
And finally, TrustMark is teaming up with the scam-watchers with the aim of further tightening the noose on the blight of this industry as well as many others. Read more

We hope you enjoy this issue.
Chris Church
Editor
Please send all your news stories to news@the-glazine.com
This Week's News
Epwin steps up to
24 more lines
Epwin Window Systems is on the way to increasing extrusion capacity by over 40% and foiling capacity by 30% with the addition of 24 new extrusion lines as well as new lamination lines at its Telford HQ.

Divisional Managing Director Clare O'Hara, at Epwin Window Systems, said: "Work to install an additional 24 extrusion lines is nearing completion. The investment more than doubles our number of extrusion lines and takes the total number to 41.

"As demand for our growing product range increases, this investment in our extrusion facilities will enable us to continue to offer outstanding quality with impressive lead times into the future."

Read more
'Strong start' for Deceuninck
Deceuninck reports a strong start to 2019 with January sales up 12% year-on-year, following a record 2018 which finished 21% up on the previous year.

Managing director Rob McGlennon said: "Despite the political chaos and constant reports of economic uncertainty triggered by Brexit negotiations it's not all doom and gloom. The commercial market is strong, and we are strong in commercial. The Deloitte Real Estate Crane Survey, for example, monitors construction activity in Belfast, Birmingham, Leeds and Manchester, as well as Dublin. In 2018 each city saw a sustained or increased level of development across a range of sectors including offices, residential, hotels, retail, education and student housing.

Read more
Debut Fabricators' Forum a success, says BFRC
The British Fenestration Rating Council (BFRC) has declared its inaugural Fabricators' Forum a success after delegates from many sectors gathered at the Royal Berkshire Conference Centre, Reading, to debate issues affecting the glazing industry including the main theme of energy efficiency.

The organisation reports: "The event saw companies share views, knowledge and concerns of issues around legislation, regulation, training, testing and certification and industry data. Five key speakers led the debates with expert presentations, each of which were followed by discussions with questions and views from the audience.

Read more
TrustMark's a 'Scambassador'
TrustMark, the Government Endorsed Quality Scheme for tradespeople, has joined the 'Friends Against Scams' campaign to protect and prevent vulnerable people falling victim to scams.

The National Trading Standards (NTS) Scams team welcomed TrustMark's Chief Executive Officer, Simon Ayers, as a 'Scambassador' to help them to protect everyone from scams and the damage they cause. Together with the organisation, Simon will encourage all TrustMark employees, Scheme Operators and Registered Firms to become 'friends' and empower them and their wider communities to 'Take a Stand Against Scams'.

Read more
House sellers see
new-year boom
Hopeful house sellers hit the new year running, with nearly two thirds more homes put on the market last month than December – far more than the expected post-Christmas bounce.

Figures from the latest Housesimple Property Supply Index saw 52,207 homes enter the market as against 31,825 (64%), with an even bigger shift in London from 12,709 to 21,677 ((70.6%).

In other UK hotspots, listings more than trebled in Hasings, and almost doubled in Southend and Torquay, while the biggest increase was Bromley, rising by 270.6%.

Read more
PHOTO FEATURE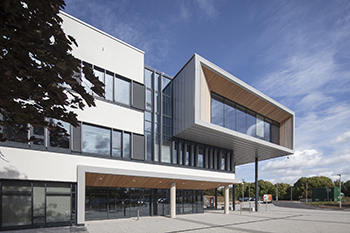 Business School and Growth Hub's new flagship building on the University of Gloucestershire's Oxstalls Campus.
Read More
Deadline:
Editorial submissions intended for the next issue should reach us by noon, Tuesday please.
to subscribe... click here
Missed the Last Issue? Click Here
Jobs
After yet another year of record sales, Business Micros is actively looking to recruit an IT Installation Technician(s) to join our team.
Read More
People
DORTECH MAINTENANCE has appointed Jack Butters as director of strategic development.
Read More
Exlabesa Building Systems has appointed Nick Baxendale as National Sales Manager.
Read More
MASTERFRAME has announced that Ramon Rabett is returning to the role of to Technical and Compliance Director.
Read More
VELUX has announced the appointment of Mick Schou Rasmussen as managing director of Velux Company Ltd, its UK and Ireland division, to lead its roof window business from its UK headquarters in Glenrothes.
Read More
MILA has expanded its marketing team with the appointment of Laura Chapman as a digital design and marketing executive.
Read More
Obituary
Friends and colleagues at Siegenia have paid tribute to Amit Mistry, who died unexpectedly last month.
Read more
Machinery
EUROTECH is adding a new order picking system to its product range.
Read More
FIT Show
EPWIN WINDOW SYSTEMS says it has begun the countdown to launch 'something brand new and exciting on its stand at the FIT Show.
Read More
EXTRUDASEAL will make its third appearance at the FIT Show, profiling products including gaskets for systems including Smart, ALUK, Metaltech, Senior and Ikon.
Read More
DEKKO WINDOW SYSTEMS will be returning to FIT this year, on stand Q10.
Read More
Timberweld is the main sponsor of FIT Show TV, which is now open for submissions.
Read More
2019 will see a FIT Show debut by WEST PORT which will be bringing a selection of British-made timber windows and doors to the event, on Stand K68.
Read More
Events
PiGS has greeted the incoming Chinese Year of the Pig with the news that the glazing industry's networking group is returning to Manchester on March 7 with over 100 already signed up for the event.
Read More
Exhibitions
Incarnation Window Systems is bringing its secondary glazing products to next month's Homebuilding and Renovating Show at the NEC, Birmingham.
Read More
SMART ARCHITECTURAL ALUMINIUM is to showcase a range of products and systems at this year's Futurebuild exhibition, Stand B30.
Read More
Security
Tiger Locks has used ULTION locks to secured 59 doors on an estate in West Yorkshire in nine days after a spate of burglaries in the area.
Read More
KENRICK has expanded its cylinder range with a new 3 star high-security cylinder.
Read More
Trade Counters
EUROCELL has opened its latest branch, in Ellesmere Port, which will soon be officially launched by local builder and former Big Brother winner Craig Phillips.
Read More
Awards
The Lock Lock security handle, part of the Sweet range from BRISANT SECURE has won a Good Design Award for 2018 in the Safety and Security category.
Read More
Recycling
EUROCELL has been named as the national winner of the sustainability category at the Future Manufacturing Awards.
Read More
Eurocell has reacted angrily to a supposed window scrappage scheme operator that the system supplier says is using its own assets, quotes and other material on its website.
Read more
Contracts
DUDLEY'S ALUMINIUM has begun work on new student accommodation on the site of Exeter's former bus and coach station.
Read More