Fabricator Focus
West Midlands based EXCEL GLAZING has become a Swish fabricator and will be manufacturing 24/7 windows, doors, conservatories and bi-folding doors.
Read More
MERCURY GLAZING SUPPLIES has become the first fabricator to manufacture the new Integral aluminium bifolding door from Epwin Window Systems.
Read More
MODPLAN has added the Wendland Lantern Roof to its product portfolio.
Read More
HWL Trade Frames says its non-glass bonded Residence 9 Window using Timberweld sash has now completed final independent testing, delivered in partnership with R9.
Read more
Projects
Frames created by REYNAERS and fabricated by Bespoke Design Glazing were used to juxtaposes minimalistic modern interiors with traditional Georgian window design in a residential project in Wilmslow, Cheshire.
Read More
It was 'no minor job' replacing over 100 windows, including some with stone mullions, at Felley House, Nottinghamshire, a five bedroom period country home set in two acres of private land.
Read More
BENNETT ARCHITECTURAL has completed its part in the £10m expansion of the Manchester Health Academy.
Read More
Environment
CMS WINDOW SYSTEMS has added the first 100% electric powered vans to its fleet.
Read More
Barnsley-based EUROGLAZE has introduced a paperless ordering option for all customers.
Read More
Certification
TRADESMITH says it is the first PVC-U fabricator to make a range of Bluesky certified acoustic windows, including A++, A and B noise rated windows.
Read More
Organisations
The GGF GROUP - which includes BFRC, Fensa, Risa, GGFi and Borough IT, has signed up to Insight Data's Fenestration database.
Read More
Security
YALE has introduced the Postmaster Professional letterplate in response to PAS 24:2016 which is now mandatory for all projects that wish to meet Secured by Design (SBD)
Read More
Charities
VEKA GROUP has transformed a double-decker bus into an 'inspirational reading space' for a local primary school.
Read More
The Windows Solutions team at REHAU raised over £7,500 for Scope, the company's chosen charity of the year, by conquering the famous Three Peaks Challenge.
Read More
Contracts
MORLEY GLASS & GLAZING has won a £500,000 integral blinds contract with Belfast City Hospital.
Read More
Fire Safety
BetweenGlass Blinds units have passed the BS EN 1634-1 internal door fire resistance test.
Read More
Internet I.T.
SWISSPACER is claiming a first by introducing online ordering of warm edge products including spacers, Georgian bars and accessories for customers.
Read More
Sponsorship
DECEUNINCK has announced that it is to become title sponsor of the Deceuninck - Quick Step World Tour cycling team, said to be 'the world's No 1 cycling team.
Read More
Wake-up call
There cannot be many people left – either in the industry or even in society as a whole – who believe they will be unaffected by Brexit but Mila supply chain director Oliver Burgess fears some fabricators may be among them and he is warning them they could be facing delays and stock shortages if their suppliers haven't woken up to the risk of disruption. And as if the issue for trading within the EU isn't complicated enough, Oliver adds that Chinese New Year can have dire implications of its own for the hardware industry. Read Letter

Elsewhere, we hear of an alarm call of a different kind where Yale has had a little trouble with an app at the centre of a home security system, giving rise to a few unwelcome headlines for the company. Read Story

Back on the international scene, and we learn of further consolidation in the global rooflight industry with the proposed acquisition of Jet-Group by Velux as well as an internal restructuring by Roto, itself with a major stake in rooflight manufacture as well as its role in the world of hardware.
Read Story
So, after wishing a safe journey to all those on their way to Glasstec next week, we hope there is something for everyone in this week's issue.
Chris Church
Editor
Please send all your news stories to news@the-glazine.com
This Week's News
Velux to acquire Jet-Group
Velux A/S has reached an agreement to acquire the Jet-Group from Dutch investment firm Egeria as part of a move to grow further in the non-residential rooflight market. The purchase is the second by the Velux Group this year, after US skylight manufacturer Wasco Products in April.

The Velux Group's first step into the commercial market was in 2012 when it launched the Velux Modular Skylight (VMS) system. It says its strategy is to develop in this area through organic growth and acquisitions.

Read more
Roto brings repair
services together in
new group structure
Roto has announced a group restructure which sees the formation of a new Roto Frank Professional Service division joining the existing Window & Door Technology and Roof Windows & Solar divisions under a new, non-operational holding company overseeing three independent firms.

Read more
Steve Gardiner named
as Lister's MD
GJB Group CEO Roy Frost this week announced the appointment of Steve Gardiner as the new Managing Director of Listers, the Stoke-on-Trent fabricator and trade counter that joined the group last year.

"Appointing a new MD is never easy and it was important to me, having got to know our customers, employees and the superb and unique culture that exists at Listers," said Roy.

Read more
Yale enters Security
Month with embarrassing app crash
Yale has made an inauspicious mark on National Security Month after a glitch in its Smart Living Home security system left many customers complaining of being locked out of their homes.

Read more
We Have Email
From: Oliver Burgess,
Supply Chain Director, Mila
There are less than six months to go now until the UK officially leaves the EU at 11pm on 29th March 2019.

While we still don't have any clear indication of what the Brexit outcome will actually look like, there's no doubt any change to the status quo is likely to cause disruption to this industry's supply chains, and could potentially affect every single one of us to a greater or lesser degree.

Read More
PHOTO FEATURE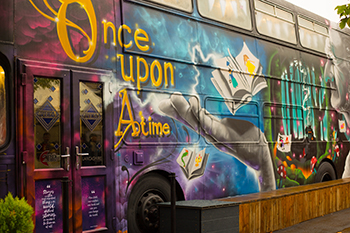 Not quite your average French door application …this the result when Veka joined other volunteers to turn an old bus into an 'inspirational reading space' for local schoolchildren.
Read More
Deadline:
Editorial submissions intended for the next issue should reach us by noon, Tuesday please.
to subscribe... click here
Missed the Last Issue? Click Here
People
The Glazerite UK Group has appointed Katie Sampson as Area Sales Manager, with responsibility for the South East and the Midlands.
Read More
MILWOOD GROUP appointed Tahlia Ibrahim as Assistant Sales and Marketing Administrator.
Read More
UNIVERSAL TRADE FRAMES has appointed Karla Greenhalgh as Area Sales Manager.
Read More
Machinery
TSA Aluminium (Teesside Architectural Aluminium) owner Paul McPherson chose KOMBIMATEC when he decided to install automated CNC production machinery.
Read More
Glass processor TUFFX has bought a second Bovone ELB 12 HS straight line edging machine at a cost of £200,000.
Read More
G18 Awards
From now until the event, on 30 November at the London Hilton on Park Lane, we will publish a special G18 Awards page listing all of the stories relating to the awards.
View Page here.
Awards
Jake Hodgkinson, fabrication supervisor
at BENNETT ARCHITECTURAL has been named as a finalist for the Rising Star category at the Manufacturing Champions Awards
Read More
LINIAR which last year gained the Queen's Award for Enterprise In Innovation, has been shortlisted for four awards.
Read More
MORLEY GLASS & GLAZING has been nominated in the IGU Manufacturer of the Year category at the 2018 National Fenestration Awards.
Read More
Installations from Vision Conservatories, Sherborne Windows and Village Conservatories have been named winners in the ATLAS Installation of the Month competition.
Read More
BISON FRAMES has been nominated to the finals in the National Fenestration Awards in the Manufacturer / Fabricator category.
Read More
Sliding and folding door hardware manufacturer
P C HENDERSON has been announced as a finalist in this year's British Chamber Awards.
Read More
The shortlist for the British Woodworking Federation Awards has been announced at the W Exhibition 2018, the national show for the Joinery and Furniture industries.
Read More
Yorkshire based QUICKSLIDE has been shortlisted in two categories as part of the National Fenestration Awards.
Read More
Glasstec
INAGAS, supplier of gas filling and testing solutions, is making plans for Glasstec, having recently returned from GlassBuild America.
Read More
REGALEAD is returning to Glasstec, on Stand C40 in Hall 10, showcasing a range or products designed for glass.
Read More
BOSTIK is to launch Bostik 6000, a new hot melt sealant for insulating glass units (IGUs), at Glasstec in Düsseldorf, Germany October 23-26, 2018.
Read More
AGC INTERPANE will be showcasing a range of products which it says are "designed to promote originality" at Glasstech.
Read More
SWISSPACER will be at glasstec on 23-26 October on stand, F42, Hall 11.
Read More
FIT Show
SUPALITE, manufacturer of replacement tiled roof systems will be returning to The FIT Show next year.
Read More
Marketing
SIDEY has opened its Edinburgh Showroom ,with 36 entrance doors as well as traditional and modern windows, all installed in home style settings.
Read More