Products
Trade fabricator UNIVERSAL TRADE FRAMES has added the Korniche Aluminium Roof Lantern to its portfolio.
Read More
HODGSON SEALANTS has launched a black variant to its existing white heritage putty in response to demand and as a solution for steel windows.
Read More

Fabricator Focus
MASTERFRAME has developed its own bespoke PVC-U system to launch upgrades of its Authentic, Heritage and Vintage vertical sliding sash ranges.
Read More
QUICKSLIDE has introduced a new BUPA Employee Assistance programme, as well as a new online HR and H&S system.
Read More

SASH UK now offers the full Imagine suite from Veka UK after adding the system's Vertical Slider to its range.
Read More
Projects
An extension to Llanerch Vineyard, a hotel in a former dairy farm in South Wales includes REHAU Total70 casement windows in black brown laminate from GRM Windows.
Read More
ALUPLAST Ideal 70 has been specified on a contemporary conversion of a former NHS-run residential care home into ten apartments, including 112 windows and doors across two-storeys.
Read More

The 52-storey, 240-metre-tall Palm Tower, a new landmark under construction at the heart of Dubai's iconic Palm Jumeirah, will be clad entirely in glass, using 50,000 square metres of Pilkington Suncool One 30/21 solar control glass.
Read More
Awards
Finance provider IMPROVEASY has presented Middlesbrough-based Swish Home Improvements with a Platinum award for customer service.
Read More
The British Woodworking Federation has launched a call for entries for its 2019 BWF Awards, which includes a new category, the Rising Star Award.
Read More

ULTRAFRAME and its customers have been shortlisted ten times across various categories of the inaugural Conservatory & Orangery Awards.
Read More
Glass
TUFFX has invested £250,000 in a third cutting line to increase the company's cutting capacity as well as keeping lead times to a minimum.
Read More
Doors
DISTINCTION DOORS says sales of prepped doors supplied complete with the company's glazed units have more than doubled
Read More
Organisations
EPWIN WINDOW SYSTEMS has endorsed the launch of its Stellar aluminium window and door system by joining the Council for Aluminium in Building (CAB).
Read More
More scrap
It may seem to some that the people behind the current rash of phoney window scrappage and subsidy websites are winning the battle, with reports of ever more clone-like sites appearing every day, but the ASA has shown equal tenacity with yet another ruling against two significant players. At the same time, the scam's heavy dependence on social media is proving to be a double-edge sword with more and more adverse comments giving far harsher verdicts than the ASA would ever dare. The Authority is one step nearer with its latest findings but this is one little aspect of new-era White Gold that is not likely to be going away anytime soon. Read more
On a much happier note, we are very glad to see not one but three familiar names facing mud and much more to raise many thousands for some very worthy causes in various regional Tough Mudder events.
And, speaking of tough challenges, it only remains to say that entries are now closed for the G19 Awards and with judging about to start, the word is that competition is set to be as hot as ever this year.

So, to all the heroes, villains and hopefuls, we trust there is something for everyone in this week's issue.
Chris Church
Editor
Please send all your news stories to news@the-glazine.com
This Week's News
EAG acquired by Elaghmore PE fund
English Architectural Glazing, the window, curtain walling and cladding business has been acquired by UK private equity fund Elaghmore from the existing management team, who will remain with the company.

Read more
ASA warns again on phoney scrappage sites
The ASA has issued another warning over misleading fake scrappage funding sites, instructing Zenith owner Clearwin Ltd and website operator KS Online not to claim they were offering 'official funding' for home upgrades.

Read more
Jones departs Synseal
Aperture Group, the body created for the acquisition of Synseal from administration has announced that sales & marketing director Andy Jones is 'bidding farewell' to the company at the end of next month to take up a group MD role with an unnamed group elsewhere in the industry.

Read more

Stellar shines as
Epwin reports 'in line' trading update
Epwin Group says it expects adjusted profit for the half and full year to be in line with market expectations, according to its half-year trading update.

Read more
Double-average colour sales push Deceuninck '30% up on market'
Deceuninck colour sales have now passed double the industry average, pushing the system supplier's overall sales up 18% – or the equivalent of 30% ahead of a declining market, according to MD Rob McGlennon.

Read more
PHOTO FEATURE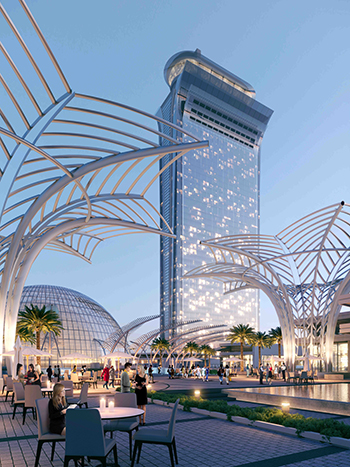 The 52-storey, 240-metre-tall Palm Tower, a new landmark under construction at the heart of Dubai's iconic Palm Jumeirah.
Read More
Deadline:
Editorial submissions intended for the next issue should reach us by noon, Tuesday please.
to subscribe... click here
Missed the Last Issue? Click Here
People
Paul Tranter has been appointed Sales Director at multi G-Award-winning fabricator LISTERS CENTRAL, based in Stoke-on-Trent and part of the GJB Holdings Group.
Read More
Machinery
EMMEGI (UK) has extended its range with the addition of the new TKE954 4-axis CNC machining centre from its sister company Tekna.
Read More
VERTIK-AL has ordered a second Magic Compact horizontal power coating plant from Gema, on the strength of results from a first, installed earlier thid year.
Read More

Essex commercial aluminium fabricator Alimatic Architectural Aluminium Systems has invested in a new Spring S4 4-Axis Machining Centre, a TT405 Double Mitre Saw and a HP114 Corner Crimping Machine from HAFFNER MURAT.
Read More
Hardware
The GREENTEQ Aspire hardware range for contemporary sliding doors has been expanded to include a new bi-fold intermediate handle, sprung door handle and escutcheon plates.
Read More
Charities
A team of 24 staff from ULTRAFRAME have completed the gruelling Tough Mudder course in Yorkshire to raise money for mental health charity Mind, with that and other events now totaling £1,200 raised.
Read More
Rehau trade fabricator EUROGLAZE has chosen Retina UK as its charity partner as part of its 40th anniversary celebrations, with a series of events and challenges for staff and customers over the coming months to raise a target of £10K.
Read More
ALUFOLDDIRECT sales and marketing manager Chris Stretten is tackling the North West Tough Mudder next month to raising money for Claire House Children's Hospice in Bebington, Wirral.
Read More
A team of six from HURST DOORS raised over £700 for their local Hull-based charity, Dove House Hospice when they completed the Tough Mudder 10-mile obstacle course and mud run challenge.
Read More

VEKA UK GROUP has donated £5,000 to Child Action North West (CANW) to contribute to the work the charity carries out with young people throughout Lancashire and beyond.
Read More
Certification
CERTASS TRADE ASSOCIATION has launched Certass TA Business Essentials, a free business support package.
Read More
Training
REAL ALUMINIUM has developed a comprehensive, free training programme for installers to use its new quoting and ordering system.
Read More
Investments
JACK ALUMINIUM has doubled its warehouse capacity with the purchase of a new factory next door to its existing unit in Coventry.
Read More