Products
ISO-CHEMIE is claiming faster and easier joint sealing in temperatures as low as -30°C with its new Iso Bloco 600 Premium Edition foam tape.
Read More
ENDURANCE DOORS has launched a range of matching finishing trims alongside one of its solid timber core composite doors.
Read More

Fabricator Focus
EMPLAS has launched its new Approved Installer Scheme, offering lead generation and sales support plus plug-in-and-play digital retail sales tools.
Read More
Projects
Architectural glazing systems by leading UK manufacturer KAWNEER were specified for two linked 16-storey apartment blocks making up the £37 million BTR (Build To Rent) towers at Erie Basin in Salford Quays, Manchester.
Read More
More than 140 vision panels from VISTAMATIC were supplied to Glasgow-based Dorsuite for the new Royal Hospital for Sick Children adjoining the Royal Infirmary of Edinburgh.
Read More
A refurbishment project to upgrade and reconfigure an office building close to Manchester Airport has involved DORTECH installing MX52 curtain wall and other systems from Technal.
Read More
Wictec curtain walling from WICONA has been used to create a bespoke façade for the refurbished Merrion House, Leeds City Council's offices.
Read More
Nearly 100 Optima windows and 26 door and sidelight combinations from PROFILE 22 were specified in Lewis House, a retirement development of 26 one- and two-bedroom apartments for McCarthy & Stone in Upper Norwood, London.
Read More
Awards
CMS WINDOW SYSTEMS has been named as a finalist in the Construction News Specialists Awards 2020, in the Specialist Contractor of the Year (turnover over £25m) category.
Read More
VICTORIAN SLIDERS has won a place in the finals in the Manufacturing category of the West Wales Business Awards.
Read More
Home improvement finance principal IMPROVEASY has been named the 23rd fastest-growing privately-owned company in the UK by the annual Sunday Times Virgin Atlantic Fast Track 100 report.
Read More
Everglade Windows has begun its 40th birthday year on a high note as a double finalist in the West London Business Awards 2020.
Read More
QUICKSLIDE is celebrating a double win at its local Calderdale Excellence in Business Awards, having gained both 'Overall Business of the Year' and 'Large Business of the Year'
Read More
The Avia Smart Lock from MIGHTON PRODUCTS has been selected as the global winner of the "Smart Lock Product of the Year" award in the 4th Annual IoT Breakthrough Awards Program.
Read More
Hardware
VBH has added Anti-Panic emergency exit and panic hardware to its greenteQ range.
Read More
Mila is launching a new range of square shaped stainless steel pull bars in its Supa range.
Read More
Internet / I.T.
BUSINESS MICROS has launched Courier, a mobile delivery scanning app for fabricators to use alongside its Evonet Despatch planning tool.
Read More
Sales lead generator LEADS 2 TRADE is launching three new software systems in 2020.
Read More
ADMINBASE, the mobile sales and management system for window and door installers, has been updated with a function allowing users to track all warranty and guarantee information for individual contracts.
Read More
Recycling
Integral blinds manufacturer Morley Glass & Glazing is working with Saint-Gobain Glass to recycle and reuse its post-consumer glass, with all proceeds going to environmental charities.
Read more
Call for reinforcements
There were no prizes for forecasting a spirited response to last week's report on the use of independently-sourced reinforcement steels and as expected, we have not only two highly energetic replies from two of the named system companies but also a return volley by Anglo, the source of the original item. As this is clearly a subject laden with many technical factors, from either side of the debate, we have decided in the name of transparency to present all three missives in unedited form and, as ever, we welcome any other contributions.
Elsewhere, we have good news in the fields of training, safety and health with the launch of the first Building Our Skills academy as well as a major initiative on mental health awareness (Read Story) and more good guys learning how to break into doors and windows that are designed to keep out the bad guys (Read Story).

Whatever your views on any of these matters, we hope you feel a little more informed by this week's issue.
Chris Church
Editor
Please send all your news stories to news@the-glazine.com
This Week's News
First BOS Skills
academy launched
The new Building Our Skills academy, the first of a planned network of facilities to offer hands-on practical training in the fenestration Industry, has been officially opened in Sheffield by Lord Blunkett.

Established in association with GQA Qualifications and supported by a large number of key Fenestration Industry employers, the academy will include surveying, window and door installation, curtain wall and glass technology, in addition to theoretical training courses.

GQA CEO Mick Clayton said: "To be able to make the new academy a reality is absolutely fantastic. I am over the moon that we are going to be able to bring more opportunities than ever to those in the fenestration industry who seek career progression.

Read more
Deceuninck hails 40 defectors in three years
Deceuninck is celebrating the gain of 40 fabricators, defecting from ten systems companies from all across the sector, partly contributing to overall sales gaining 20% throughout 2019.

The company says 22 switched from premium sector systems, 11 from middle sector systems, and seven from budget sector systems. The company also took one new start on board.

Managing Director Rob McGlennon says the reasons they give for joining are more choice, an unbeatable colour offering, the Heritage Flush family, better service and relationships, and the opportunity to grow. Deceuninck's strong green credentials, with one of the largest, most modern recycling plants in Europe, has also been a strong contributory attraction.

Read more
Alpine Window and Door Systems in Administration
Alpine Window and Door Systems Ltd, also trading as Alpine Aluminium has been placed into administration.

The fabricator, specialising mainly in bi-fold and sliding doors, as well as windows, roof systems and commercial shop fronts, advertises national coverage and rapid turnaround from its factory and showroom in Morley, Leeds.

Read more
We Have Email
From: Martin Thurley,
Group Managing Director, Liniar
An article was recently published in The Glazine with Anglo European making claims its reinforcement is "a match for those supplied by three named systems companies" – one of which is Liniar.

Liniar is fully expecting systems companies, testing houses, suppliers and the industry's governing bodies to work together quickly to separate fact from fiction, in order to ensure that product performance and safety is not compromised. Ultimately it will be the industry's governing bodies that rule on the outcome, but in the meantime we feel it is time for Liniar to speak out.

Read More
From: Dave Jones, MD, VEKA UK
Integrity is one of VEKA UK's core values, and when we see a piece in the media containing information that could mislead and damage our customers, posing as news, it's important for us to take a stand. I am, of course, referring to the piece recently published in the trade press by Anglo European.

While I'm confident that fabricators and specifiers will be able to spot the inaccuracies for themselves, the problem lies in the fact that there are grey areas of the fenestration industry that aren't being sufficiently policed.

Read More

From: Paul Sullivan,
Managing Director, Anglo European
We are pleased that systems companies share our conviction that window and door reinforcements are a critical element of manufacture and that they must deliver on performance - and to specification.

This principle has driven our continuing test programme, carried out independently through a UKAS accredited test house and to BS6375-1:2015, the standard for weather tightness specified by them.

Read More
PHOTO FEATURE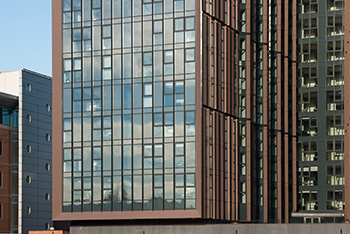 Two linked 16-storey apartment blocks making up the £37 million BTR (Build To Rent) towers at Erie Basin in Salford Quays, Manchester.
Read More
Deadline:
Editorial submissions intended for the next issue should reach us by noon, Tuesday please.
to subscribe... click here
Missed the Last Issue? Click Here
People
Adrian 'Reg' Redshaw is joining Roger Hartshorn's GARNALEX as Sheerline Design Director, focussing on the company's new aluminium window and door system.
Read More
ODL Europe, has appointed Andy Meakin as Business Development Manager.
Read More
Steve Stewart and Nick Dutton, CEOs of Brisant-Secure, have welcomed Derrick Purvis to the team.
Read More
Machinery
Composite door supplier VISTA has invested in a new SCM CNC machine centre, which will add 30% more capacity on a single shift, and a new Stuga machine centre, which will double frame capacity.
Read More
VICTORIAN SLIDERS has expanded its glass capacity with the installation of a £250,000 Lisec fully-automated sealed unit line.
Read More
G19 Awards
Carmarthen-based NOLAN UPVC has been named as Installer of the Year at the G19 awards.
Read More
GLASSOLUTIONS has been awarded the 'Trade Counter of the Year' trophy at the G19 awards for its Aberdeen outlet.
Read More
Charities
A team from CMS WINDOW SYSTEMS was among volunteers who delivered hundreds of packages of donated food, children's clothes and toys to families in Kirkcaldy, Fife before Christmas.
Read More
Doors
The Aperture Group is launching Warden Fire Doors, a range of timber doors developed to comply with EN:1634-1 and BS 476: Part 22 standards.
Read More
VIRTUOSO DOORS has invested in new machinery and rolled out a double shift pattern at its 80,000-sq ft site in the North East.
Read More
The Aboda Collection from ROCAL GROUP is a new range of premium door panels developed with 'urban design credentials'.
Read More
Results
ATLAS GLAZED ROOF SOLUTIONS says it is more than 15% ahead of budget for new business, with many new installers making use of its multi award-winning showroom support package.
Read More
VICTORIAN SLIDERS is celebrating making a record 2,347 windows in the second week of December, ending a year in which the company recorded an 8.98% growth in sales.
Read More
HITECH BLINDS has announced a record 44% year-on-year growth.
Read More
Brochure / Video
"There is still considerable demand for conservatories and glazed extensions," said Chris Baron of PREFIX SYSTEMS on the launch of its new 20-page conservatory brochure.
Read More
Abcell has launched two exclusive new brochures to show the benefits of Guardian Warm Roof and AluK products.
Read More
Security
MILA is launching a Sold Secure Diamond Standard, BSI 3* Kitemark cylinder.
Read More
Marketing
The UK could see fewer than 800 PVC-U fabricators by 2024, based on worst-case projections of number of current business being almost halved since 2008, according to a new market review by INSIGHT DATA.
Read More
Nearly three quarters of homeowners said they would now only use a Fensa installer to replace their windows and doors and a half say they now know to ask for a Fensa certificate.
Read more
Health & Safety
The GLAZERITE UK GROUP has begun rolling out Mental Health Awareness sessions as part of a nationwide programme.
Read More
SHELFORCE opened its doors to the West Midlands Fire Service to help its firefighters with emergency door and window entry training.
Read More
Training
BM ALUMINIUM has broadened its training menu, which now includes online training sessions using Teamviewer software and telephone support.
Read More