Products
HOWELLS PATENT GLAZING is launching two new developments for its Ultraline non-intrusive, low-pitch aluminium
roof light.
Read More
BOHLE has launched BriteGuard Pro end-user glass surface protection coating, replacing a three-stage coating process with a single application.
Read More
ALUK has added to its 58BW window system with the launch of the new 58BW Flush.
Read More
The APERTURE GROUP has added to its range of 2- and 3-Way Stratus lantern roofs with the launch of the 4-Way variant.
Read More

Fabricator Focus
North West fabricator Reddish Joinery has become the latest firm to offer solid tiled roof systems from SUPALITE.
Read More
QUICKSLIDE has announced a number of new additions to its transport fleet as part of £2million of investments planned for 2020.
Read More
Preston-based tiled roof manufacturer SUPALITE has announced Lancashire Double Glazing as the newest addition to its nationwide fabricator network.
Read More
CUBE GLASS aims to almost double the size of its factory in Cumbernauld with the purchase of its existing factory and plans to build a 3,800sqft expansion.
Read More

Projects
Architectural glazing systems by KAWNEER, including aluminium heritage-style windows appropriate for the conservation area, have helped to transform the façade of an old radio and television factory into the new London Screen Academy.
Read More
Toughened glass from TUFFX was chosen for a balcony and balustrades to complement the minimalist styling of Scottish new-build home.
Read More
A project to refurbish an open plan, first floor kitchen and dining space within a Victorian residential property in Notting Hill has used the PROMAT Systemglas Celare fire resistant glazing system to balance aesthetics with passive fire protection.
Read More
Awards
Organiser of the GLAZING SUMMIT have announced an awards event to run alongside this year's conference.
Read More
The team at Dekko Window Systems are celebrating being shortlisted for the 'Manufacturing Excellence' award at the Amazon Scale-Up Awards by Business Leader.
Read More
Disability employer SHELFORCE has been announced as a finalist in the Employer of the Year category at the 2020 Amazon ScaleUp Awards by Business Leader.
Read More
Training
Tradespeople can earn more than £50,000 a year, according to new research published by the Federation of Master Builders to mark National Apprenticeship Week.
Read more
SENIOR ARCHITECTURAL SYSTEMS has created a dedicated Training Academy at its South Yorkshire head office.
Read More
CORNWALL GLASS MANUFACTURING is to create six new apprenticeships before the end of this year.
Read More
Certification
SIDEY is now Energy Saving Trust approved and will now vary the endorsement on its Solartherm, Solartherm Plus and Smart Sash windows.
Read More
Stellar, the double
G Award-winning aluminium system from EPWIN WINDOW SYSTEMS, has gained three more accreditations.
Read More
Hardware supplier
MI PRODUCTS, has created a guide to help customers meet Building Regulations Approved Document Part M.
Read More
Trade Counters
GJB WINDOW SYSTEMS has launched The Big Trade Counter in Bedfordshire, the group's third branch in the UK.
Read More
Marketing
Window Widgets has put its products onto a series of five A1 posters in support of its 158-page catalogue.
Read More
Environment vs Environment?
There are mixed views in the industry this week as to whether the Strasbourg proposals on legacy lead recycling will devastate the biggest environmental initiative this industry has ever known or it will be shouted out before it reaches the statute books. Of course, lead has been one of the biggest demons of the global contamination debate for over a century and always arouses an emotional response wherever it appears. But on the other hand, the recyclers point to all research on its safety when recycled along with PVC frames – especially when compared with the alternatives of incineration or landfilling. As with many subjects in these columns of late, we might expect to hear much more of it in the near future.
Read more

Also this week, we have to report that one of the oldest names in glass processing, Anders Glass has gone into administration. This is all the more poignant knowing the mark that the company made in the industry with the role that Maurice Anders so actively played for so long. Read more

We hope there is something in this issue for everyone.
Chris Church
Editor
Please send all your news stories to news@the-glazine.com
This Week's News
Anders Glass collapses
in its 90th year
Manchester-based Anders Glass, one of the UK's longest-established glass processors, has ceased trading after 89 years in business and nearly 180 years of the Anders family's involvement in the glass industry.

The family firm was formally placed into administration after laying off its workforce of nearly 100 earlier this month. Andrew Poxon and Sean Williams of Leonard Curtis have been appointed as administrators.

TA Anders and Co had remained in the Anders family since its foundation in 1931 to the present under managing director Simon Anders.

Read more
Veka's Dave Jones
to step down
Veka UK MD Dave Jones has announced that he is retiring after 13 years in the role and 26 years with the Burnley-based systems company.

He said this week he will remain in the position until the end of the year to give time for a seamless transition to a successor, after which he will step back into a non-executive role at the company.

"I've enjoyed a fantastic and fulfilling career at Veka Burnley, first as Operations Manager, then Operations Director before spending the last 13 years as Managing Director. My working life spans almost 44 years to this point and I feel that now is the right time to step down as Veka UK's Managing Director and hand over the leadership of the business.

Read more
Recyclers react to new PVC/lead proposals
VinylPlus has spoken out against European Parliament proposals on the recycling of materials containing legacy lead which the industry says could threaten the bulk of PVC frame recycling.

The organisation says it regrets the outcome of the Strasbourg vote on the proposed derogation for the continuous use of PVC originally made using lead stabilisers, meaning it would instead have to be incinerated or landfilled, leading to a greater environmental burden for future generations. Industry insiders say it could also decimate the amount of post-consumer material available for recycling at a time when many have invested millions on plant for processing the existing supply.

Read more
Kömmerling launches 'biggest ever' social responsibility programme
Kömmerling has embarked on what it says is its biggest ever Corporate and Social Responsibility Programme, launched across the whole profine Group including the UK under the title 'Your Window to a Better World.'

The group says Your Window to a Better World will underpin everything that the company will do in 2020 and beyond, and is also 'a commitment to the environment and to people across all international markets'.

Read more
Deceuninck up 22% in 'exceptional start'
Deceuninck reports January 2020 sales are up 22% year-on-year following record results in 2019.

The company says this exceptional start is down to a surge in sales of colour and its Heritage Flush windows and doors. Managing director Rob McGlennon said: "The top end of the market is focused on 'aspirational' products like heritage flush windows and doors, patio sliders and colour. We give our customers the products and service to grow in this sector and our top 20 customers' sales are now comfortably over 50% colour.

Read more
PHOTO FEATURE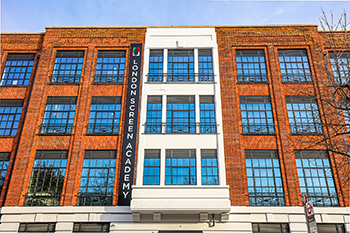 Transforming the façade of an old radio and television factory into the new London Screen Academy.
Read More
Deadline:
Editorial submissions intended for the next issue should reach us by noon, Tuesday please.
to subscribe... click here
Missed the Last Issue? Click Here
People
GARNALEX, Roger Hartshorn's extrusion venture, has welcomed Paul Greenaway as Area Sales and Technical Manager for its Sheerline window and door systems in the South East.
Read More
SAJE UPVC has appointed Sarah Stallard as Operations Director.
Read More
MODPLAN has appointed Steve Deeming as Business Development Manager.
Read More
Machinery
TUFFX has expanded its manufacturing facility by 6,000ft2, making way for the installation of a Glaston RC Series furnace, the third and largest furnace now in operation at the company's Merseyside premises.
Read More
Plymouth-based Right Price PVCu says it has seen output increase by 50%.since installing an SMR-5 Welder from HAFFNER MURAT.
Read More
Limerick based Curran Aluminium has just become the first company in Ireland to install a Tekna 743 vacuum clamping 3 axis machining centre from Emmegi, giving it the ability to machine its own flat sheets and flashings in-house for the first time.
Read More
Fensterbau
PROFINE GROUP with its Kömmerling brand says it will once again be the largest exhibitor at Fensterbau Frontale, in Nuremberg from March 18th-21st, this year with the theme of 'Your Window to a Better World.'
Read More
Glass
Glass industry leaders have heard a call for the formation of a marketing body to tackle the lack of awareness of the innovation that goes into modern glass and to take the message of its diversity straight to consumers.
Read more
Brochure / Video
Fire safety glass manufacturer and supplier PYROGUARD has announced the release of its 2020 Technical Document.
Read More
THE RESIDENCE COLLECTION has launched My Residence, a 36-page lifestyle magazine 'full of ideas and content to inspire consumers and help trade partners realise more sales'.
Read More
Doors
DOORCO is expanding its door glass offering with the launch of the new Decorative Glass Additions range with 524 stock lines including traditional, contemporary or minimalist options.
Read More
Health & Safety
THE WINDOW COMPANY (CONTRACTS) has gained accreditation to ISO45001: 2018, the latest occupational health and safety standard developed to replace OHSAS18001.
Read More
Hardware
WINDOW WARE has extended its range of tilt-and-turn hardware with the addition of GU Uni-Jet products.
Read More
Contracts
Swansea-based
AB GLASS has secured a £1.5m contract to work on a £39m high-rise student accommodation block at the city's Mariner Street.
Read More
Cumbernauld-based INDEGLAS has secured an ongoing agreement to regularly inspect and maintain internal glazed screens within the University of Strathclyde's Stenhouse, James Weir and Technology and Innovation Centre Buildings.
Read More
Charities
Conservatory Outlet Network member Pennine Home Improvements has named Children North East as its chosen charity for 2020.
Read More
Results
THERMOSEAL saw a 10%growth in group exports last year and says it now supplies IG components to 48 countries in five continents.
Read More
Internet / I.T.
Business Micros says it's business as usual for both sides after its acquisition for an undisclosed sum of Echo Digital Media (EDM), better known by its brands The Consultancy and The Glazing Vault.
Read more