Products
The Big Data Institute at Oxford University has achieved its vented air requirements with the help of the Highline manual "Teleflex" system from TEAL PRODUCTS.
Read More
Tiled roof system manufacturer SUPALITE has signed a new five-year UK-exclusive supply agreement with New Zealand manufacturer The Ross Roof Group for ExtraLight roof tiles.
Read More
Fabricator Focus
AluK Optimo fabricator CENTRALASL – the aluminium sister company to CentralRPL, both parts of Gary Morton's Boing Boing Group – is now contributing more than 20% to the group's overall sales in just over a year since its launch.
Read More
Installers wanting four-hour quotes from Framexpress can now get them over the phone, fax or email on weekday evenings up to 9pm.
Read More
HWL TRADE FRAMES has expanded the colour offering on its
Residence 9 frames.
Read More
ICOTHERM ROOF SYSTEMS has invested more than £45,000 in new software that means customers can get a solid roof quote in two hours.
Read More
Projects
A former commercial and retail block in Redditch, Worcestershire, has been transformed into 14 one bedroom apartments by Profile 22 fabricator FRAMEXPRESS and installer Goldstar Windows.
Read More
A former Victorian asylum, a church and other buildings have been transformed into Cherry Tree Mews, a development in Somerset by the Jones Building Group using ALUPLAST Ideal 70 anthracite on white windows installed by DGlass.
Read More
Aluminium glazing systems by Kawneer were used in the two main facades of the £20 million John Bradfield Centre at the Cambridge Science Park, owned by Trinity College Cambridge.
Read More
The new Clydeside Distillery, which has brought Whisky production back to the banks of the River Clyde in Glasgow for the first time in 100 years features aluminium curtain walling and commercial doors from SENIOR ARCHITECTURAL SYSTEMS.
Read More
Doors
Manchester-based fabricator FORCE 8 has announced the introduction of its smooth finish composite doors, which bear a resemblance to an aluminium door that would typically cost around four times as much.
Read More
REAL ALUMINIUM has added composite doors from Virtuoso Doors to its range.
Read More
Sapa has launched its C160S sliding door. The system includes 50mm glass fibre reinforced polyamide strips to reduce thermal conduction.
Read More
Hardware
Element Materials Technology, owner of the Exova Group, has announced that
HOPPE (UK) is the first manufacturer to become certified under its newly introduced STS217 certification scheme which tests security handles for burglar resistance.
Read More
Sliding and folding door hardware manufacturer
P C HENDERSON has launched a new Twinbolt locking system for use with its Securefold exterior door hardware system.
Read More
ERA has introduced a new patio door hook locking solution whose 'Integrated Dog Bolt' feature, slimline gearbox and unique locking clusters are said to solve several challenges commonly faced by fabricators and installers.
Read More
Standards
ERA has achieved the Investors in People Gold accreditation.
Read More
Internet / I.T.
REHAU has made all its customer marketing material available online for the first time with the launch of its 360 Customer Marketing Website.
Read More
Certification
The BRITISH FENESTRATION RATING COUNCIL has launched a new bespoke system, designed to provide all customers with an improved streamlined customer management service.
Read More
Offsite
Off-site manufacture has been hailed as one solution to easing the UK's housing crisis by in a report by a House of Lords Committee published this recently.
Read More
Marketing
HOPPE (UK) is going direct to the consumer for the first time with a listing on Wayfair, said to be the world's largest online retailer for home and décor products.
Read More
A sticky issue
Last week saw reports of price hikes in glass and PVC and now, this week, we see global silicone shortages making up a troublesome triumvirate to keep both fabricators and installers awake in the summer holidays. This latest crisis is summed up in a letter by David Naylor of illbruck and while we may expect the champions of the no-silicone alternative to shout the loudest on this matter, he does make some very valid points about the industry's – and come to think about it, many industries' – growing dependency on global commodity markets. Read Letter
Elsewhere, when any two organisations of significant size and sway decide to work together, we can expect equally significant consequences so we will watch the progress of the DGCOS – Certass tie up with interest in the weeks and months to come.
Read Story

And finally, we have a dog with a lot of time on its hands devoting some of that time to helping homeowners thwart the annual spike of summertime home theft. Read Story
On that note, it remains only to remind all that The Glazine is now on holiday for the next two weeks, which will give hopeful G18 entrants ever more time to make the most of the extended deadline for entries, which is now Monday, August 20 and we look forward to being back on your screens with our next issue on Tuesday, Aug 21.

See you then.
Chris Church
Editor
Please send all your news stories to news@the-glazine.com
This Week's News
DGCOS and Certass sign partnership deal
DGCOS and Certass, including the recently-launched Certass Trade Association, have agreed a partnership deal that will see the two organisations: "work together on promoting the industry's professionalism, while supporting installers in a range of areas, including business, technical and consumer issues".

The two explained in a joint statement this week: "There will also be cross-promotion of the schemes between the Certass Trade Association and DGCOS, with specific benefits available to members of both. For instance, Certass members will be able to use DGCOS to cover their mandatory alternative dispute resolution (ADR) requirement, while the joining fee for new Certass members will be covered under the agreement between the two organisations."

Read More Here
Ollie the redundant guard dog leads summer security push
A seven-week social media campaign has been launched by Avocet Hardware to help homeowners beat the summer spike in home thefts.

Leading the campaign is the Ollie, a guard dog who finds himself with time on his hands because his owners have fitted their home with the company's locks, backed by the warning that burglaries increase by 10% and outdoor thefts by 40% during the summer school holidays.

Meanwhile, a recent Office for National Statistics crime survey for England and Wales reported that 92% of all domestic burglary in a dwelling is committed through the front or back door; 52% and 40% respectively.

Read More Here
Need more time on
G18 – you've got it
For anyone rushing to get their G18 award submissions in by today's deadline – don't panic, the organisers have given you an extra three weeks to get your entries completed and in.

"We have a great crop of entries this year," said organiser Tony Higgin. "But even more are still coming in, right up to today's original deadline.

Read More Here
GAI launches quarterly standards reviews to 'navigate the regulations landscape'
The Guild of Architectural Ironmongers (GAI) has published its first Quarterly Standards Review to help door and window hardware professionals to remain compliant.

The document gives further information on all relevant BS and EN Standards and also highlights standards that are due for revision and suggests when that revision might be.

Read More Here
We Have Email
From: David Naylor,
Product Manager, Illbruck
As hundreds of your readers will know all too well, we're in the middle of the worst silicone shortage in years – and in fenestration, that's a big problem.

We're now faced with higher prices, longer lead times - often by weeks, not days - and the dilemma of whether to suck up the punishment and try and wait it out, or think long-term and look for alternatives.

Read More

PHOTO FEATURE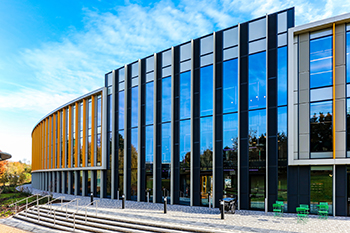 The £20 million John Bradfield Centre at the Cambridge Science Park, owned by Trinity College Cambridge.
Read More
Deadline:
Editorial submissions intended for the next issue should reach us by noon, Tuesday please.
to subscribe... click here
Missed the Last Issue? Click Here
People
Regent growth at HURST has spurred a flush of recruitment in response to the company gaining several new customers and increased production across door panels and composite doors.
Read More
KOLORSEAL has appointed Cara Lansley as General Manager, in charge of the company's recently-opened second factory.
Read More
THE NATIONAL FEDERATION OF GLAZIERS has welcomed Elicia Lewis to the Federation as its new Membership Secretary.
Read More
RISA the inspection and auditing company for the Glass and Glazing Federation, has announced the promotion of Dave Mechem as Operations Director.
Read More
Machinery
The latest ROWELDO XL frame welder from Rottler & Rüdiger now makes a Swisspacer warm edge frame in less than 25 seconds with a new robotic 'speed-up kit', says the spacer manufacturer.
Read More
AluK says it is at the final stages of testing the only Flash Oxidisation (FOX) plant run by any aluminium systems supplier in the UK and could be only weeks away from putting it into full production.
Read More
Tile roof manufacturer SUPALITE has invested around £400K in a new machining centre at its headquarters in Preston.
Read More
Events
Deceuninck and VBH (GB) hosted another successful golf day where customers, suppliers came together at the Bowood Hotel, Spa & Golf Resort in Wiltshire.
Read More
All-time record entries saw 27 teams of GLAZERITE customers join 14 others for the fabricator's 13th annual Pro-Am Golf Day at Wellingborough Golf Club.
Read More
More than 100 guests joined EVERGLADE WINDOWS for its 12th trade customer conference earlier this month.
Read More
G 18 Awards
The Glass and Glazing Federation has announced it will once again sponsor the G18 Awards, which this year will culminate at the London Hilton on Park Lane on 30 November 2018.
Read More
Glasstec
The Glass and Glazing Federation will be exhibiting at Glasstec in Dusseldorf on the 23rd to 26th of October.
Read More
Awards
The AluK Installation of the Month winner for June was a new-build holiday home in the village of Brundall, on the banks of the River Yare in the Norfolk Broads.
Read More
REHAU has been recognised for Best Polymer-Based Building Products Manufacturer Award and for Excellence in Energy Efficient Building Products as part of the Sustainable Building 2018 Awards by Build magazine.
Read More
The Glass and Glazing Federation Group is supporting the 44th National Home Improvement Council (NHIC) Awards, taking place on 22nd November at One Whitehall Place, London.
Read More
FRAME FAST UK has been named as a double finalist in the East Midlands Chamber Derbyshire Business Awards for 2018.
Read More
Hardware distributor WINDOW WARE was named the winner of the service excellence category in the SME Bedfordshire Business Awards 2018 ceremony at the Park Inn Radisson, Bedford.
Read More
Training
HOPPE (UK) is congratulating its marketing manager, Jessica Roberts, who has been announced as winner of the Top Student Award at her recent graduation ceremony.
Read More
Contracts
BENNETT ARCHITECTURAL has been chosen to provide glazing for the new Superbowl UK in St. Helens.
Read More
CALEDONIAN, along with its partner Architects HLM, has secured first place on the modular framework to provide permanent, component-based buildings and facilities for the ESFA's new secondary schools block replacement programme.
Read More
Residence 9 windows, part of the RESIDENCE COLLECTION, have been specified on a listed building refurbishment project at Scarborough College, North Yorkshire.
Read More