Products
EVERGLADE WINDOWS has added Privacy Screens – that also act as insect screens - to its range of cross-selling opportunities for installers of wide-span bi-fold and sliding doors.
Read More
KÖMMERLING has worked with the GEORGIAN BAR COMPANY to develop a new window with an astragal bar as an integral part of the design.
Read More
VEKA GROUP has added colour-matched laminated mouldings to its offering.
Read More
ICOTHERM ROOF SYSTEMS has launched IcoSpan, a new flat roof system for orangeries, using the same roof technology as the company's Solid Roof.
Read More
Integral blind manufacturer HITECH BLINDS is claiming a UK first with a new aluminium rooflight system featuring a fully integrated pleated blind as standard.
Read More
ORIGIN has unveiled the Origin Slimline Window (OW-70) alongside its existing Origin Premium Window (OW-80) in response to demand for a slimmer sightlined window.
Read More
Fabricator Focus
GJB WINDOW SYSTEMS has converted unused office space at its Essex headquarters to create a its first ever showroom in its 30-year history
Read More
As one of the first companies in the UK to take stock of Sweet,
Fab Frames have now started to offer this revolutionary range of door furniture on their composite doors to their South West customer base.
Read More
Projects
SENIOR ARCHITECTURAL SYSTEMS was specified to deliver the glazing package for the new Doubletree by Hilton in Hull.
Read More
The first phase of the £65 million New Era Square student accommodation in Sheffield, with fenestration by BENNETT ARCHITECTURAL ALUMINIUM has officially been opened.
Read More
Assured passive fire protection for a spectacular central atrium in Dublin city centre's largest new commercial development has been provided by over 300m2 of PROMAT Systemglas Ferro.
Read More
Hardware
ORIGIN has chosen the Nemesis multi-point window locking system from Kenrick for its new aluminium window, the Origin Slimline Window.
Read More
Doors
DISTINCTION DOORS is attributing a near 50% upturn in sales of glass to demand for its in-house glass designs and a new package of consumer literature.
Read More
APEER has launched a second paint line to increase capacity and give extra contingency cover.
Read More
Security
YALE DOOR AND WINDOW SOLUTIONS is sponsoring National Home Security Month for its sixth year, throughout October.
Read More
Certification
Lancaster Grange, a new build development featuring WARMCORE windows and bi-folds in Bricket Wood, Hertfordshire, has been awarded a Home Quality Mark by the BRE.
Read More
Organisations
FENSA has announced a series free roadshows to installers throughout the South West and North West of England.
Read More
The Door & Hardware Federation has announced the formation of a Commercial Department to support the organisation's growth, particularly with its training offering.
Read More
Fensa has appointed a brand consultancy to explore 'one the construction industry's great unknowns'.
Read More
The Glass and Glazing Federation (GGF) has released its Annual Report for the year to December 2017 highlighting 'a landmark year that saw the GGF celebrate its 40th anniversary.
Read More
Almost 100 delegates attended the GGF Annual Members' Day at The National Motorcycle Museum in Solihull.
Read More
Fire Safety
CHECKMATE FIRE SOLUTIONS is relocating its south-east office to larger premises in Harlow as a result of ongoing growth.
Read More
Charities
Three VEKA GROUP Directors will be ditching their duvets and buttoning up their winter coats for a chilly overnight stay at Burnley FC's Turf Moor ground later this month
Read More
Thanks for the ride
Seven years – a few dozen men and women – tens of thousands of pounds raised from many millions of turns of the pedal. The announcement by GM Fundraising that its next bike challenge will be the last marks the finale of what has become one of the milestones in the industry's calendar Read Story. The reasons are clear and understandable – the teams have set themselves ever higher targets to beat and, as Gary says, they are all seven years older than when this great chapter began.

Of course, the rest of GMF's work will continue and everyone involved in Hope House will continue to be grateful for that and we wish them the very best with everything they do. The only question that remains is what will anything think of to match these marathons in the years to come.

And, of course, speaking of milestones in the calendar, more and more hopefuls are gleefully shouting about their listings as G18 finalists, so as a record of all their hopes for glory on November 30, we have launched a page listing all the hopefuls for the few weeks until the Awards Ceremony and Gala Dinner at the London Hilton on Park Lane. View Page

Also, we are told, whether a finalist or not, there are still a few tickets left for the event at (Visit website) but don't hang around – they are going fast.

Until then, we hope you enjoy this week's issue.
Chris Church
Editor
Please send all your news stories to news@the-glazine.com
This Week's News
GMF unveils biggest
– and last – charity
bike challenge
GM Fundraising has launched its seventh annual cycling marathon, setting itself the target to raise £125,000 with the team promising to go out on a high as they announce that this is to be the final charity challenge of its kind.

"From Russia With Hope promises to be the biggest and hardest cycling challenge to date," said GM Fundraising founder Gary Morton. "The team, which includes 19 members of the Border2Border riding and support team, will be covering in excess of 280 miles each day as they cycle from St Petersburg, through Finland, into the arctic circle, through Sweden , Denmark, Germany, Holland, Belgium, France, England and Wales, before arriving at Hope House Children's Hospice in Oswestry.

But he added: "From Russia With Hope' is the seventh and final major cycling challenge for good reason: Aside from the immense amount of work that goes into the planning and execution, each time we must increase the challenge and funds raised. This is no easy task.

Read more
McAllister re-emerges at Conservatory Outlet
Former GGF managing director Shaun McAllister this week stepped back into the industry spotlight in the newly created role of Retail Operations Director at Conservatory Outlet Group.

McAllister, whose sudden parting in May was one of a number of controversial top level departures at the Federation, will take strategic responsibility of CO's two recently acquired retail operations, Clearview Home Improvements and Pennine Home Improvements.

Group CEO Greg Kane said of the appointment: "Shaun is unrivalled in his experience and reputation and his appointment is a very welcome addition to our already very strong leadership team. Shaun personally delivered a great level of assistance to a number of members of our team during his time as Managing Director at the GGF and we couldn't be more delighted to welcome him on board."

Read More Here
FMB backs Hammond on flexible apprenticeship levy
The Chancellor is right to make the Apprenticeship Levy more flexible, so that it works for strategic industries such as the construction sector, according to the Federation of Master Builders but it adds that his reforms have not gone far enough.

Responding to Philip Hammond's speech at the Conservative Party Conference, Brian Berry, Chief Executive of the FMB, said: "The Chancellor has, in part, listened to the concerns of business by making the Apprenticeship Levy more flexible. However, he needs to go much further.

"Currently ten per cent of Levy vouchers can be passed down through the supply chain from large firms to smaller firms and today, he increased this to 25 per cent. This is important as in construction, it's the small firms that do the bulk of the training while the large firms don't tend to directly employ or train tradespeople.

Read More Here

BWF ends Fire Door Safety Week with video launches
The British Woodworking Federation has rounded off Fire Door Safety Week with the publication of five emotive videos aimed at driving home the importance of fire doors as well as 'a legacy of neglect' in their inspection and maintenance.

The films, all posted online, underline not only the importance of the fire doors themselves but also the need for correct installation, use, maintenance and third party certification as well as commemorating the loss of life at Grenfell Tower.

Hannah Mansell, spokesperson for FDSW, as well as British Woodworking Federation Head of Technical Research and Insight, Chair of the Passive Fire Protection Forum and a Trustee of the Children's Burns Trust, says that the industry needs to continue to lobby for third party certification to become mandatory. At the same time, the pace of industry research, innovation and collaboration needs to continue to ensure that fire doors are of the very best quality both today and on into the future.

Read More Here
PHOTO FEATURE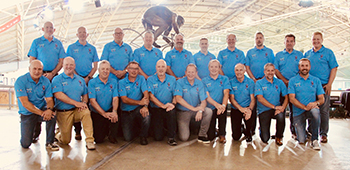 GM Fundraising has launched its seventh annual cycling marathon, setting itself the target to raise £125,000 with the team promising to go out on a high as they announce that this is to be the final charity challenge of its kind.
Read More
Deadline:
Editorial submissions intended for the next issue should reach us by noon, Tuesday please.
Send The Glazine to a friend... Click Here
to subscribe... click here
Missed the Last Issue? Click Here
Jobs
Business Development Manager (North / South)
Synseal Group is looking for a customer-focused Business Development Manager with good industry knowledge to join its growing sales team.
Read More
Head of Installer Network
Synseal Group is recruiting for an expert sales professional with experience working with showroom retailers to head up its installer network programme.
Read More
People
DOORCO has announced that Jeyda Heselton, a self-proclaimed 'Doork', is teaming up with the company as its Creative Consultant.
Read More
BENNETT ARCHITECTURAL has announced a restructuring to its senior management team, which sees Rob Bennett, major shareholder and co-owner of the business, taking up the new role of Pre-Construction Director.
Read More
G18 Awards
CUSTOMADE GROUP companies have been shortlisted for four awards at the forthcoming G18 awards.
Read More
DECEUNINCK has been shortlisted for three G18 awards.
Read More
Integral blind manufacturer MORLEY GLASS & GLAZING is celebrating its first shortlisting at the G18 awards.
Read More
Marketing agency PURPLEX is celebrating five of its clients receiving a nomination at this year's G18 Awards.
Read More
REYNAERS has been shortlisted for the G18 Awards in the 'Training and Development inititative of the Year' category for its new Training Centre.
Read More
VEKA GROUP is proud to have been shortlisted in two categories at this year's G Awards.
Read More
WINDOW WARE has been nominated for 'Customer Care Initiative of the Year' at the G18 Awards.
Read More
Trade counter and Emplas customer WORCESTER TRADE FRAMES has been shortlisted as a G-Awards finalist.
Read More
Exhibitions
Shutter Slide, the new louvre hardware from
P C HENDERSON, is to be launched to the market at the Architect at Work trade show in Berlin, 7th and 8th November.
Read More
I-SOL8, a new thermally efficient bracket for curtain walling from Blue Sky Concept Design is to be launched in the PiGS Pavilion at the Build Show.
Read More
CERTASS TRADE ASSOCIATION is going to The Build Show, as part of the PiGS Pavilion at the Windows, Doors and Glass Show.
Read More
FRAMEXPRESS is bringing Patiomaster to The PiGS Pavilion organised by Balls2 Marketing as part of the Build Show in UK Construction Week.
Read More
GLAZPART is to be part of the PiGS Product Pavilion at the Doors, Windows and Glass section of The Build Show.
Read More
PURPLEX is set to exhibit at UK Construction Week, which takes place at the NEC Birmingham from 9-11 October.
Read More
Awards
THE WINDOW COMPANY (CONTRACTS) has become the first company ever to achieve a Gold rating in the GGF's GLASS (Goal Less Accidents Safer Sites) Charter Merit Scheme.
Read More
ROTO has been listed as a finalist in two categories in the London Construction Awards, which take place later this month.
Read More
BENNETT ARCHITECTURAL has been named as finalist in two categories for the National Fenestration Awards.
Read More
Internet / I.T.
EUROCELL has launched The View, a new blog aimed at encouraging interaction and sharing best practice as well as providing updates on industry and product news.
Read More
Marketing
Tyne & Wear based Premier Roof Systems is able to expand its showroom, thanks to £3,000 of REAL ALUMINIUM products it won in the supplier's 'Take the Leap' prize draw.
Read More
PREFIX SYSTEMS has launched a competition offering £100 voucher prizes for customers who submit their aluminium window and door installation photos.
Read More
Events
PiGS will meet for the last event of 2018 at the Pitcher and Piano in Birmingham on 8 November.
Read More