Products
Comar has launched the FSDX aluminium bi-fold door alongside its existing FSD offering with a number of additional new features.
Read More
DOW has developed Dowsil 3363 Silicone Insulating Glass Sealant, designed to facilitate narrow sealant joints.
Read More
GEOCEL has changed the chemistry and improved the formulation of its expansion joint sealant, 201.
Read More
CONSERVATORY OUTLET has launched its new Extreme Solid Core Door.
Read More
RENOLIT has launched Exofol PFX Super-Matt, combining a fluoric top coat to its existing Exfol PX product.
Read More
SENIOR ARCHITECTURAL SYSTEMS has added a new parallel push option to its PURe range of low U-value aluminium windows.
Read More
Fabricator Focus
Trade fabricator MODPLAN has announced a series of Leka Systems Open Days, with events tailored separately for newcomers and existing customers.
Read More
SCOTIA DOUBLE GLAZING welcomed Scottish Parliament Cabinet Secretary Michael Matheson to formally open its new 50,000 ft² Kilmarnock
manufacturing plant.
Read More
DOUBLE R GLASS & ROOFING SYSTEMS is now offering the new Guardian Solstice Skylight System for the Guardian Warm Roof.
Read More
Trade fabricator UNIVERSAL TRADE FRAMES has added Visofold 1000 bi-folding doors to its range.
Read More
Projects
Ipasol Neutral 70/37 glass from AGC was chosen to glaze the focal point of Coal Drop's Yard, London's newest shopping and dining district.
Read More
The conversion of a Victorian warehouse into residential accommodation has used Spectus Elite 70 doorsets manufactured by Derbyshire-based Spectus fabricator Titan Trade Windows and installed by The Right Window Company of Leicestershire.
Read More
'There is no better endorsement of a product's quality than if you're willing to use it in your own projects', according to EXLABESA BUILDING SYSTEMS whose curtain walling was specified when its customer Alufast wanted to upgrade its own premises.
Read More
A tiny gardener's cottage, in the village of Aboyne, Aberdeenshire, has been transformed into a self-catering hideaway using bespoke aluminium glazing from SIDEY.
Read More
The new sports complex at the Solent University in Southampton includes aluminium fenestration package from SENIOR ARCHITECTURAL SYSTEMS.
Read More
SWISSPACER warm edge spacer bars were specified for the glazed units in the building of a new research centre for Centogene AG for the genetic diagnosis of rare hereditary diseases in Rostock, Germany.
Read More
Some 300 homes in a refurbishment by Ferguslie Park Housing Association in Paisley were upgraded with PVCu windows and doors manufactured and installed by CMS WINDOW SYSTEMS.
Read More
G19 Awards
THERMOSEAL GROUP is to sponsor the glass and glazing industry's G-Awards Champagne Reception for a tenth year in a row.
Read More
Recycling
VEKA RECYCLING has launched a new website that the company says is in keeping with the continuing construction of what will be Europe's most advanced PVC-U window and door recycling facility.
Read More
Security
YALE is upgrading to stainless steel on all of its multipoint lock faceplates as standard.
Read More
Doors
WINDOW WAREHOUSE is now offering the Designer Door aluminium entrance door range from Smart Architectural Aluminium.
Read More
EMPLAS has unveiled its new composite door range, which features a new leaf and Kubu smart sensor hardware as standard.
Read More
Standards
The GGF has issued updated technical statements.
The first relates to 'Low sightline glass units: Read Statement
The second is 'Construction Product Regulations and insulating glass units: Read Statement
Organisations
Veka fabricator GLAZERITE has joined the Glass and Glazing Federation.
Read More
Nearly 19 million people have viewed Fensa's first-ever TV campaign since its launch in March, while its parallel online campaign has received 6million impressions, the organisation has announced.
Read more
**** business?
Harold Wilson famously said half a century ago that a week is a long time in politics but as today's events unfolded, it would not even be safe to change that to half an hour, as it is fair to say the one thing everyone has been predicting for a month still seems to have come as a shock to everyone.
Of course, those in this and every other industry may remember that little word our new PM put before 'business' but when just about every forecast at the moment is falling victim to chaos theory, it might be unwise to guess whether he intends to follow through with his comment. However, both the GGF and FMB have been quick in responding to the news.

Elsewhere in Westminster, the housing minister has awarded a clear round to all the timber fire doors that had undergone its new 30-minute test, something the wood lobby has been quick to applaud. Read more

So, apart from another reminder that next week is the last issue before our two-week summer break, it only remains to say we hope there is something in this issue for everyone.
Chris Church
Editor
Please send all your news stories to news@the-glazine.com
This Week's News
Minister declares
timber fire doors safe
Housing minister James Brokenshire this week declared there is 'no performance concern' with timber fire doors across the industry after publishing tests showing all 25 manufacturers' doors passed the 30-minute standard on both sides.

The result was welcomed by the British Woodworking Federation which immediately urged all those responsible for fire safety in buildings to review the documents supporting the performance of their fire doors 'to ensure people's lives are not put at risk'.

The minister said: "As a result of our tests, the Expert Panel have concluded that they do not believe there is a performance concern with timber fire doors across industry, where they are purchased directly from the manufacturer and produced to specification."

Read more
GGF 'set for fresh approach' under Johnson
The Glass and Glazing Federation today announced it is set for a fresh approach ahead of the imminent Cabinet re-shuffle under Boris Johnson.

Its Political Strategy Committee has already met to discuss the status, progress and future plans for its campaigns on fire safety, skills and training, energy efficiency in the light of recent political activity. Today Chief Executive Kevin Buckley said of the imminent reshuffle: "When the new appointments are finalised - hopefully in the next few weeks – then we will approach the relevant ministers and key decision makers with fresh communications on our campaigns. In the meantime, we will continue to cascade any relevant information on the campaigns, Brexit and glazing in conservation areas as and when we have it."

The federation has been active in a number of parliamentary and other policy arenas recently.

Read more
Cut VAT on home improvements,
FMB urges PM
Incoming PM Boris Johnson must 'build columns instead of writing them' if he is to fix the housing crisis and restore the hope of home ownership to a generation, the Federation of Master Builders said today.

Chief executive Brian Berry said the country will only reach the number of good quality homes it needs, and at the rate they are needed if local house builders are freed up to build as many homes as the large house builders.

"We want to see Boris bring down the barriers facing construction SMEs, including those who repair and maintain our homes," he said.

Read more

Epwin steps up as
G19 main event sponsor
Epwin Windows Systems is once again to be a main event sponsor of the G19 Awards.

The group has been in the front row of sponsors since the 2015 event and its Profile 22 division has connections going back to 2004.

Marketing Manager Gerald Allen said: "The G-Awards recognise and celebrate excellence in our industry and are a great way to reward the commitment and continued innovation that this industry delivers. We are delighted to be a main event sponsor and help support such a prestigious event.

Read more
PHOTO FEATURE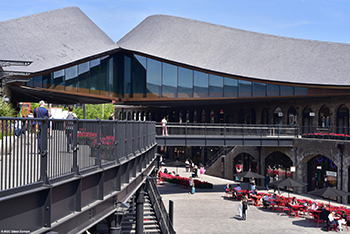 Coal Drop's Yard, London's newest shopping
and dining district.
Read More

We Have Email
From: Wayne Rogerson,
Joint MD, CENSolutions Ltd
We read with interest the recent piece in The Glazine about the Government's report on new housebuilding. It made for grim reading and we'd like to offer another perspective. We're not suggesting the report was wrong, but it's interesting to see how different credible reports provide divergent views of the landscape.

The report cites that the number of new homes registered were up 3% in Q1 compared with the same period last year. It also points out the huge effect that the affordable and rental housing sector is having on new housebuilding, compared with the private sector. The latter may be lagging, but the former is 36% ahead compared with this time last year.

Our anecdotal evidence would support the NHBC report too – as the largest quality certification supplier in the insulated glass and window industry, CENSolutions, in co-operation with ER Certification, look after the certification needs of some of the UK's largest New Build fabricators. Our customers are all extremely busy in this sector, to the point where they are close to capacity and are looking at making, or have already made, investments into increasing capacity. This is positive news as they're creating new jobs through organic business growth, all at a time when there is perceived uncertainty due to Brexit.

Read More
Deadline:
Editorial submissions intended for the next issue should reach us by noon, Tuesday please.
Send The Glazine to a friend... Click Here
to subscribe... click here
Missed the Last Issue? Click Here
People
Distinction Doors has announced the recruitment of Dean Hempshall as Quality Health and Safety and Engineering (QHSE) Manager and Przemyslaw (Joe) Dojlidkoas Electrical Maintenance Engineer.
Read More
Hardware distributor WINDOW WARE has appointed Stella Napoli as Customer Service Apprentice.
Read More
Obituary
Selecta Systems announces with great sadness the passing of its Technical Manager, Richard Bent, who died on Sunday, July 14, after a short illness.
Read more
Events
Organisers of the Glazing Summit have announced EDGETECH, UNIQUE WINDOW SYSTEMS and WINDOW WARE as three of the main sponsors of the 2019 event.
Read More
FIT Show
Once again, as more and more exhibitors are looking to share their reflections on the FIT Show, we have opened our own dedicated page to give comprehensive, easy access to all the reports now and in the weeks to come.
VIEW PAGE
VENT ENGINEERING reports a successful FIT 2019 with visitors learning more about its smoke ventilation products, especially their new Ventec Elite Certified AOV Smoke Window.
Read More
AVANTIS INTERNATIONAL brought Kubu, which it describes as the first mass market Smart lock, to the FIT Show, where the stand was kitted out with both fully connected door and window displays.
Read More
Hardware
HOPPE (UK) has launched a new flush lift and slide door handle in response a request from Architectural Ironmongers B J Waller for a handle suitable for a pair of pocket lift and slide doors that closed onto a corner post.
Read More
Hardware distributor CARL F GROUPCO has announced it is to supply the full Yale product range.
Read More
Stedek has introduced hand-forged ironmongery from The Anvil as an option on its R9, R7 or R2 windows, and any of its Residence Doors.
Read More
Epwin Window Systems brand PATIOMASTER is to fit its doors with Era hardware as standard from Autumn 2019.
Read More
Mila is making its ProSecure TBT gearing range available with the option of a new fully concealed hinge alongside the existing visible, face-fix option.
Read More
Charities
MORLEY GLASS & GLAZING has sponsored the 8th Annual North Leeds Charity Beer Festival, which this year raised more than £10,000 to fund worthwhile projects in Leeds and beyond.
Read More
The sun shone once again for the GLAZERITE UK GROUP annual Pro-Am Golf Day where customers, suppliers and staff together raised over £10,000 was raised for the charity We Mind & Kelly Matter.
Read More
Certification
SIDEY has achieved ISO 45001:2018 certification for the manufacture and installation of windows, doors and conservatories using PVCu and aluminium profile.
Read More
Training
The Door & Hardware Federation is claiming a UK first by offering an official theory-based qualification for three of the industries it serves, the automated gate, industrial door and domestic garage door sectors.
Read More
Brochure / Video
ENTRANCE COMPOSITE DOOR SOLUTIONS used its presence at the FIT Show to launch a new 72-page composite door brochure under its new brand identity.
Read More
Internet / I.T.
Rehau fabricators SHEPLEY has designed and developed a new online Visage Composite Door Designer.
Read More
BM ALUMINIUM has seen an 8% rise in customer numbers since the start of 2019 as the aluminium sector continues to defy sluggish market conditions.
Read More
Fire Safety
AGC GLASS EUROPE has gained Cradle to Cradle Certified Silver for its fire-resistant glass products Pyrobel and Pyrobelite.
Read More
A new online product selector and 'Glazing For Life' technical brochure have been launched by PROMAT UK.
Read More
Marketing
New Ultraframe Ultra Installer has praised the scheme's lead generation resource after converting eight leads together worth £240,000 in the four months since it joined.
Read More
Investments
ALUPROF says the group's investment is at an all-time high with a record £46 million committed in 2018 alone.
Read More