Products
A range of flyscreens has been launched in the UK by ASCENA SCREENS as an add-on or call-back opportunity for bi-folding and sliding door installations.
Read More
Uni-blinds integral blinds manufacturer MORLEY GLASS & GLAZING is celebrating buying a million meters of Technoform warm edge spacer bars since teaming up with the supplier four years ago.
Read More
ATLAS GLAZED ROOF SOLUTIONS has unveiled the Lantern 2.0 said to be 'the slimmest, lightest and most energy efficient lantern and the slimmest non-bonded roof the market has ever seen.'
Read More
BETWEENGLASS BLINDS has extended its range of integrated blind systems and shading solutions with the launch of a new manual magnetic system.
Read More
Fabricator Focus
Yorkshire-based Dortech Group is forecasting its glazing maintenance division will almost double its turnover to £1m in 2019.
Read More
MODPLAN has further expanded its Newport, Gwent, production facility with the installation of a 12,000 sqft mezzanine floor for the manufacture of its Leka roofing products.
Read More
Ayrshire-based Scotia Double Glazing has expanded into new purpose-built premises, merging five former factories into a single 50,000sq ft unit.
Read more
EMPLAS has continued its programme of infrastructure and customer service investment, with an upgrade of its fleet.
Read More
Projects
Aluminium systems supplied by ALUPROF were specified for the 14-storey Hotel Indigo Manchester, adjacent to an existing and sympathetically restored Victorian Grade II listed City Buildings.
Read More
Agard Court, a £17m student flat development in Derby, with more than 200 bedrooms, was completed by Kingfisher Windows using
PROFILE 22 Optima Flush tilt & turn PVCu windows.
Read More
HOWELLS PATENT GLAZING was appointed manufacturer and supplier of a bespoke glazing system for The Towers, the centrepiece of Alton Towers Resort, said to be one of the greatest examples of Gothic Revival architecture in Britain.
Read More
Doors
ENFIELD SPECIALITY DOORS, which supplied three units for testing on behalf of the Ministry of Housing Communities & Local Government (MHCLG) post-Grenfell, has announced that the units passed the 30-minute test 'by a reassuringly large margin'.
Read More
DOORCO has worked with IT developer The Consultancy to launch an online customer support package that helps customers to do business with their own customers online.
Read More
Hailsham-based trade fabricator TRADESMITH has added the full range of Spitfire doors.
Read More
Training
EUROCELL has opened a new learning and development centre at its Alfreton headquarters, to enable it to provide regular practical training and classroom-based support to its fabricator and installer customers.
Read More
The GGF is urging the Government to change its policy towards apprenticeships to tackle shortages of skilled installers, surveyors and manufacturers in the face of migration issues.
Read more
Ultraframe is holding a series of training events hosted by training manager Phil Wharf to educate its installer customers about best practice in surveying and installation.
Read More
Certification
Window and door fastener supplier RAPIERSTAR has stepped up to the latest edition of the ISO 9001 management standard, making it now ISO 9001: 2015 certified.
Read More
YALE DOOR AND WINDOW SOLUTIONS has gained a product-specific Environmental Product Declaration (EPD) certification for its Revolution window hinge.
Read More
VERTIK-AL has been awarded the GSB International seal for Approved Coated Aluminium for the 24th year.
Read More
Environment
VEKA GROUP has been awarded the International Standard ISO 50001 Energy Management Systems.
Read More
Acquisition and consolidation
Anyone expecting the industry to be still in seasonal torpor might be in for a shock this week. We have news of two acquisitions as well as the consolidation following an earlier one, a seven-figure expansion, a rebranding and another cowboy cold-caller stopped in its tracks as well as the mixed news of a restructuring by Rehau with some site closures but the prospect of more flexible response to peaks in demand for profile. Read more
Glaston is buying Bystronic, bringing further consolidation to the global machinery industry Read more Leads2Trade is now claiming the fenestration top spot in lead generation Read more. Velux is bringing last year's Jet acquisition under the main brand Read more, while Hurst is dropping the word Plastics from its identity Read more.
Finally, we hear not only of a cold-caller being called to order but further evidence, as we have said many times, that any company that phones you with the word 'Energy' in its name really deserves a less than energetic response. Read more

We hope however you will find something more trustworthy in this week's issue.
Chris Church
Editor
Please send all your news stories to news@the-glazine.com
This Week's News
Rehau restructure threatens Slough and Amlwch – plus flexible shifts at Blaenau
Rehau UK this week issued an assurance that its external sales capability will not be affected by restructuring plans to close its Slough sales office and Amlwch PVC edgeband plant as well as changes to the shift pattern at its Blaenau window profile plant.

The company proposes to move Slough admin services to Manchester as part of a new central sales hub. In a statement, it continues: "this proposal, if actioned, will not affect our external sales capability.

Read more
Glaston buys Bystronic
Helsinki-based Glaston Corporation has agreed to acquire Bystronic Glass, the Swiss-owned flat glass machinery, systems and services provider for enterprise value of EUR68million.

Read more
Saveheat puts £1m into second PVC-U plant
Saveheat Group has announced a £1million investment in a second PVC-U factory to serve Scotland's West Coast and keep pace with demand for its existing unit in the east, as well as signalling further major investments for later in the year.

Read more
Enforcement Notice for false name cold caller
A Kent home improvement company found to have made over 820,000 cold calls to TPS registered numbers and said to have used false company names such as Energy Care and Energy UK was this week ordered by the Information Commissioner's Office it to stop its illegal marketing activity.

Read more
Leads2Trade acquires CloudGlaze
Lead generation provider Leads2Trade has completed the acquisition of CloudGlaze in a move that it says now makes it the biggest volume supplier of leads for the fenestration industry.

Read more
Now, it's Hurst
Hurst Plastics has unveiled a major re-branding including the simplified 'punchier' name 'Hurst' and a new identity backed by a new suite of marketing materials and IT resources.

Read more
Velux and Jet come together for Velux Commercial
Velux is bringing the Jet Group which it acquired last year, under the single group brand with the formation of Velux Commercial.

Read more
PHOTO FEATURE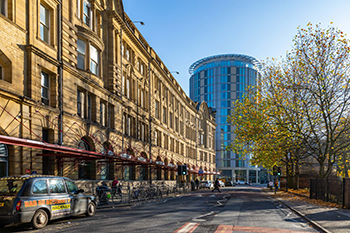 The 14-storey Hotel Indigo Manchester.
Read More
Deadline:
Editorial submissions intended for the next issue should reach us by noon, Tuesday please.
Send The Glazine to a friend... Click Here
to subscribe... click here
Missed the Last Issue? Click Here
Jobs
After yet another year of record sales, Business Micros is actively looking to recruit an IT Installation Technician(s) to join our team.
Read More
People
EPWIN WINDOW SYSTEMS has announced the appointment of Katrina Earl as head of sales.
Read More
GJB WINDOW SYSTEMS co-founder Gary Bristow is stepping down as sales director for a more 'ambassadorial' role, to be succeeded by former sales manager Rob Waller.
Read More
Former Pilkington AG General Manager John Spiby has been appointed CEO of trade
IGU manufacturer Padiham Glass.
Read More
REHAU this week confirmed the appointment of Claire Miller as Marketing Director of its Windows Division, as announced in The Glazine in October.
Read More
WINKHAUS has announced the promotion of its national sales manager Mike Rushen to sales director.
Read More
FIT Show
FIT Show organisers are celebrating record support for the May event with already more space booked than the entire 2017 show.
Read More
Finance provider IMPROVEASY will be showcasing its full range of services at The FIT Show 2019 with the spotlight on its installer finance packages.
Read More
Events
The BFRC Fabricators' Forum takes place on Thursday (31st January) at the Royal Berkshire Conference Centre, Madejski Stadium, Reading.
Read More
Exhibitions
ISO CHEMIE will be targeting designers and architects at Futurebuild 2019 with its airtightness and energy efficiency solutions for windows and doors (stand E12).
Read More
Security
BRISANT SECURE has issued figures supporting its claim that door security is now a must, not an upsell.
Read More
Internet / I.T.
Newcomer software brand Infinity is soon to launch its Showroom app, which it says allows installers to create their own mobile showroom for use online or off.
Read More
Brochure / Video
Spectus Systems has launched new versions of two of its most popular brochures.
Read More
Trade Counters
Stevenswood, the national trade counter group formed out of the exchange deal with Polyframe in 2016, this week signalled plans to grow from 38 outlets to 50 in the coming year.
Read more
Charities
A team from EMPLAS will be put through their paces in a 5K 'inflatable' charity fun run to raise funds for the Warwickshire and Northamptonshire Air Ambulance.
Read More
Awards
VEKA GROUP has been shortlisted for the Northern Power Women's NPW Awards which 'showcase role models and celebrate the many different ways women and men contribute to a thriving Northern Powerhouse.'
Read More
SCHUECO UK is inviting architects, main contractors and specialist contractors to submit entries to its 7th annual Schueco Excellence Awards for Design and Innovation.
Read More
Organisations
The GGF Group has announced the formation of two new departments in the areas of marketing and external affairs.
Read More
QUALICOAT UK & IRELAND has welcomed St Helens-based C&O Powder Coaters into membership, having passed all inspections late in 2018.
Read More