Projects
SPECTUS fabricator Mercury Glazing manufactured and supplied 204 windows for the refurbishment of Cliff House, an iconic former hotel in Felixstowe.
Read More
Optima windows from PROFILE 22 were chosen for the construction of 18 houses, 38 flats and two retail units as part of a £50m regeneration scheme in Maidstone, Kent, by Housing association Golding Homes.
Read More
More than 700 frames of DECEUNINCK 2500 chamfered windows have been installed in a development of luxury apartments in Alexandra Wharf in Southampton.
Read More
Investments
APEER has invested £750,000 in a second, larger toughening line to stay ahead of demand for its Lumi and Lumi2 windows and doors, which it says has trebled in the last year alone.
Read More
TUFFX has expanded its Knowsley manufacturing facility, adding 20,000sq ft unit to its existing 55,000ft2 factory.
Read More
Doors
DISTINCTION DOORS
is approaching the 20th anniversary of the UK's first composite doors with the completion of the £850,000 first phase of a major infrastructure investment at its
Barnsley HQ.
Read More
FORCE 8 has added a new composite door, Geneva, to its two-tone contemporary collection.
Read More
Training
ULTRAFRAME has partnered with Total Support Training by supplying two Ultrasky lanterns for training pods at the trainer's Milton Keynes unit.
Read More
A new fenestration training provider has been launched as 'the UK's only GQA approved centre offering a full suite of products in a controlled environment'.
Read more
Intenet / I.T.
MRA MARKETING has launched a new website dedicated to its research division, MRA Research.
Read More
INFINITY software for fabricators and installers has been launched with features including dedicated sales and marketing apps and lead capture tools.
Read More
Sponsorship
EXTRUDASEAL has agreed a year-long deal with South West rugby club, Blandford RFC which sees the gasket and seal manufacturer as a principal shirt sponsor for the first XV for the 2018/19 season.
Read More
Hardware
The Sinidex lock from Caldwell has gained PAS24-accreditation on Liniar profiles, Eurocell Logic, Modus and Modus Flush systems, Deceuninck's 2500 and 2800 systems and Kommerling Gold.
Read More
Fire Safety
ISO CHEMIE Iso-Top Winframer thermal insulating and load bearing bracket system for the installation of windows has achieved E30 fire rating.
Read More
Results
Year-to-date sales at REAL ALUMINIUM have grown by nearly 45% to a three-year peak, the company has announced.
Read More
Worthing-based NEWVIEW WINDOWS has recorded a 38% increase in turnover on 2016-2017 and gained 43% year on year since April 2018.
Read More
ROSEVIEW is on course for a record-breaking 2018-2019 with sales now 15% ahead of last year with rising demand for its Rose Collection from both trade and commercial sectors.
Read More
Standards
Worthing-based NEWVIEW has been awarded two UKAS accreditations, for ISO9001:2015 for Quality Management and ISO14001:2015 for Environmental Management.
Read More
Glass
GUARDIAN GLASS EUROPE has launched an online Product Selector that allows glass processors, architects, designers and cladders to find the most suitable Guardian Glass product for their project.
Read More
An early present
There cannot be many examples in this or any other industry where an entire multi million pound manufacturing sector is brought to a complete halt and then left on hold for nearly six months. So there will be very many people looking forward to a more relaxing Christmas now that the all-industry moratorium of fire doors has been lifted.
The early present is to the credit of the Association of Composite Door Manufacturers and the government department which have worked in harmony under the spectre of so many fatalities at the disaster which led to the specification of many products being found wanting.
Read more

Elsewhere, we hear this week of what must be any innovator of brand-holder's worst nightmare, when a fake product is sold as the real thing, with all the subsequent damage to the reputation of the original, not to mention the disappointment of one or more householders. Read more
And finally, it remains only to remind readers and contributors that next week will be the last issue before out two-week Christmas break.

Until then, we hope you enjoy this week's issue.
Chris Church
Editor
Please send all your news stories to news@the-glazine.com
This Week's News
Fire doors back on sale after post-Grenfell moratorium lifted
The Association of Composite Door Manufacturers today announced that it has reached agreement with the Ministry of Housing, Communities & Local Government to allow the sale of fire doors to resume in the UK following a voluntary moratorium by the industry.

Read more
Installer fined £5,000 for fake 'Bygone' claim
Masterframe has revealed today how a company was fined £5,000 for falsely claiming to be using its Bygone Collection windows and doors – the third time the fabricator has had to defend its brand integrity in this way.

Read more
Lords set to debate
off-site report to tackle housing crisis
The House of Lords will tomorrow (Dec12) debate the Science and Technology Committee's report "Off-site manufacture for construction: building for change."

Read more
Six syscos sign to VinylPlus label
Six systems houses serving the UK market – Deceuninck, Epwin, Internorm, Rehau, Schüco and Veka – have now taken up the VinylPlus Product Label in 2018 with two others undergoing the audit process to join them, the organisation has announced.

Read more
New DHF push-button guide includes perimeter and fire doors
The Door & Hardware Federation has released a new Best Practice Guide for the locks and building hardware industry covering the British Standard for Mechanically Operated Push-Button Locksets (BS 8607:2014 + A1:2016). The Standard sets out the requirements and test methods for durability, strength and also functionality.

Read more
PHOTO FEATURE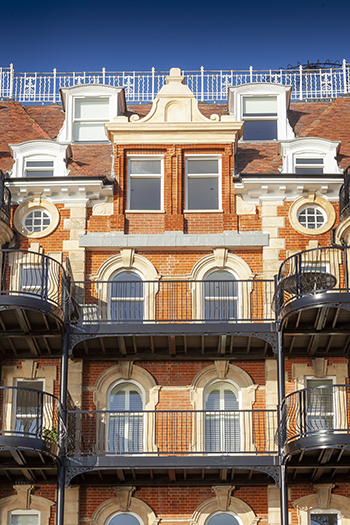 Cliff House, an iconic former hotel in Felixstowe.
Read More
We Have Email
From: Alan Burgess, Timberweld
The industry has a mixed record of respecting intellectual property (IP). We've probably all seen cases of copying (ranging from accidental infringement to blatant copying and theft) of innovations, product design and brands.

Read More
Deadline:
Editorial submissions intended for the next issue should reach us by noon, Tuesday please.
Send The Glazine to a friend... Click Here
to subscribe... click here
Missed the Last Issue? Click Here
Obituary
John Weir, a veteran of the Glass & Glazing Federation who was instrumental in developing its earliest technical standards, has died, aged 79 after a long illness.
Read more
Machinery
UNIQUE WINDOW SYSTEMS has continued investment in its manufacturing facility with the purchase of a second Graf SL4FF.
Read More
G 18 Awards
DECEUNINCK has won the G18 'Product of the Year' award with Linktrusion technology, the second year running the company has scooped the top prize for product innovation at the
G-Awards.
Read More
AluFoldDirect picked up two G-Awards – Fabricator of the Year and Training and Development Initiative of the Year.
Read More
DOUBLE R GLASS & ROOFING SYSTEMS was named Glass Company of the Year at the G18 Awards and managing director Ian Sims said: ""We couldn't be prouder of the entire team.
Read More
EPWIN WINDOW SYSTEMS has won the Sustainability Initiative of the Year at the G18 Awards for being one of the first companies to achieve the VinylPlus Product Label certification.
Read More
PILKINGTON UNITED KINGDOM has won at the G18 Awards for its installation at the £90 million 6 St Andrew Square project, Edinburgh.
Read More
VBH (GB), manufacturer of the greenteQ suited hardware range and supplier of a large selection of third-party products, has won the G18 'Component Supplier of the Year'.
Read More
The Window Company (Contracts) has been named the G-Awards Installer of the Year for the third time in five years.
Read More
Virtuoso Doors picked up the winning trophy for 'Promotional Campaign of the Year' at the G18 Awards, topping off what it says has been the best year ever in its 37-year history.
Read More
Awards
CMS WINDOW SYSTEMS has been named a finalist in the 2019 Construction News Specialists Awards.
Read More
The rising stars of the door and window hardware industry were celebrated at the 39th annual Guild of Architectural Ironmongers' (GAI) Education Awards at the Royal Lancaster Hotel, London.
Read More
Events
Tiled roof system manufacturer SUPALITE welcomed customers from across the country to its annual fabricator conference.
Read More
Exhibitions
Q-railing will showcase two new product launches, its Easy Alu, a railing with lightweight aluminium posts, and the Easy Glass Prime all-glass balustrade.
Read More
Marketing
The EPWIN WINDOW SYSTEMS Advent Calendar event is back for 2018, with a prize to be won every day by one draw entrant chosen at random.
Read More
Charities
THE GLAZERITE UK GROUP annual charity Race Evening at the Wolverhampton Racecourse this year raised nearly £600 for The Lewis Foundation.
Read More
The entire workforce at ULTRAFRAME have created a fund-raising calendar to buy a special wheelchair for a colleague who became paralysed from the waist down after a paragliding accident earlier this year.
Read More
Organisations
Conservatory Outlet has added a third installer member in as many months with the addition of Swindon-based, £4million turnover TWC Home Improvements to its UK network of retail partners.
Read more
The GGF has paid tribute to Dr Bernard Lowe one of its longest serving members and greatest technical contributors, who is retiring after 58 years in the industry.
Read More