Products
SHEPLEY has launched the Vuelta flush sash with a PVC-U weld said to gives the appearance of a traditional timber joint on the outside following an investment in MechWeld machinery from Jade Engineering.
Read More
EUROCELL has launched a cill cover that it says will help contractors save time, money and unnecessary work on site by allowing damaged cills to be repaired by positioning the new cover over the existing cill.
Read More
Fabricator Focus
Aberdeen-based installer WESTEND WINDOWS has begun fabricating in-house and is now manufacturing the Elite 70 window and door suite from Spectus Systems.
Read More
Yorkshire-based fabricator QUICKSLIDE is celebrating success in its second Quality Systems Audit this year under the guidance of auditor CENSolutions.
Read More
Projects
Optima windows from PROFILE 22 were chosen for the construction of 18 houses, 38 flats and two retail units as part of a £50m regeneration scheme in Maidstone, Kent, by Housing association Golding Homes.
Read More
More than 700 frames of DECEUNINCK 2500 chamfered windows have been installed in a development of luxury apartments in Alexandra Wharf in Southampton.
Read More
Windows on Bloomberg's new £1.3bn European headquarters in the City of London were installed using Iso Bloco One Control sealing tape technology from
ISO-CHEMIE.
Read More
REHAU windows and doors have been installed in a luxury houseboat in Belfast, listed on Air B&B as one of the top featured properties in Northern Ireland.
Read More
Investments
APEER has invested £750,000 in a second, larger toughening line to stay ahead of demand for its Lumi and Lumi2 windows and doors, which it says has trebled in the last year alone.
Read More
TUFFX has expanded its Knowsley manufacturing facility, adding 20,000sq ft unit to its existing 55,000ft2 factory.
Read More
Doors
FORCE 8 has added a new composite door, Geneva, to its two-tone contemporary collection.
Read More
DOORCO says it has been actively increasing stock levels to ensure they will be fully stocked throughout December, and ready to deliver when its doors open again for 2019.
Read More
Training
CMS WINDOW SYSTEMS has welcomed twelve young people to its new CMS Apprenticeship Programme delivered via the CMS Academy.
Read More
Intenet / I.T.
INFINITY software for fabricators and installers has been launched with features including dedicated sales and marketing apps and lead capture tools.
Read More
Sponsorship
EXTRUDASEAL has agreed a year-long deal with South West rugby club, Blandford RFC which sees the gasket and seal manufacturer as a principal shirt sponsor for the first XV for the 2018/19 season.
Read More
Hardware
The Sinidex lock from Caldwell has gained PAS24-accreditation on Liniar profiles, Eurocell Logic, Modus and Modus Flush systems, Deceuninck's 2500 and 2800 systems and Kommerling Gold.
Read More
Contracts
Aluminium fabricator-installer AB GLASS has been awarded a contract by Willmott Dixon to design, manufacture and install works at the £7million Nerrols Primary School in Taunton, Somerset.
Read More
The other OTIF?
We all know of 'On Time In Full' as the mantra of any company's target for production and delivery systems but how many in the industry, especially the SMEs that make up its bulk, wish the major contractors would apply the same acronym when it came to paying the bills.
It has been widely reported here and elsewhere how late payment by business giants can harm – and too often break – smaller companies further up the supply chain and this week's idea of freezing slow payers out of government work is not new but many in the industry will be hoping the threat is beginning to have some effect. Read more

There is also news of a new training provider with the bold claim of being the only GQA centre offering a full suite of products in a controlled environment. Read more
And of course, we are proud to share with you the best of the best industry with all the G18 winners, all showing once again what the leaders and achievers have done in the year to keep our industry at the forefront. We expect to hear more from each of them in the days to come but this week we are happy to share our own report of the event. Read more
Meanwhile, to all winners and losers, we hope you enjoy this week's issue.
Chris Church
Editor
Please send all your news stories to news@the-glazine.com
This Week's News
Simply the best
2018 has proved a vintage year for the industry's 15th G-Awards with another top flight of achievers and innovators called into the spotlight as G18 winners on Friday (Nov 30) before more than 600 of their peers at the London Hilton on Park Lane.

"Fifteen years on and the standard of entries just goes on getting better," said organiser Tony Higgin.

Read more
Govt launches new clampdown on late payers
Major contractors who don't pay their suppliers on time could be barred from winning all public work, according to new prompt payment rules unveiled by the Government this week.

The initiative, due to come into force next autumn, will ensure the government only does business with companies who pay their suppliers on time, many of which are small businesses.

Read more
Death of GGF veteran John Weir
John Weir, a founder member of the Glass & Glazing Federation who was instrumental in developing its earliest technical standards, has died, aged 79 after a long illness.

Read more
Pro-Fitter launched
as 'controlled
environment' trainer
A new fenestration training provider has been launched as 'the UK's only GQA approved centre offering a full suite of products in a controlled environment'.

Read more
CO grows again
Conservatory Outlet has added a third installer member in as many months with the addition of Swindon-based, £4million turnover TWC Home Improvements to its UK network of retail partners.

Read more
PHOTO FEATURE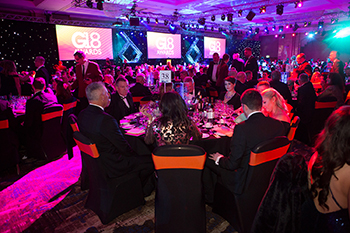 2018 has proved a vintage year for the industry's
15th G-Awards
Read More
Deadline:
Editorial submissions intended for the next issue should reach us by noon, Tuesday please.
Send The Glazine to a friend... Click Here
to subscribe... click here
Missed the Last Issue? Click Here
People
John King has been promoted to Sales Director for CARL F GROUPCO while retaining his national sales management responsibilities.
Read More
FIT Show
Purplex will be back at the FIT Show 2019. Managing director Andrew Scott said: "The FIT Show always provides a great opportunity to connect with fabricators and installers and it's great to be returning to the show floor to showcase all of the services we have to offer.
Read More
Awards
The rising stars of the door and window hardware industry were celebrated at the 39th annual Guild of Architectural Ironmongers' (GAI) Education Awards at the Royal Lancaster Hotel, London.
Read More
PILKINGTON UK has won the 'Innovative Solution' award at the Glass Focus 2018 awards for AviSafe, a prototype coated glass designed to prevent birds flying into windows and doors.
Read More
The National Home Improvement Council (NHIC) has recognised a number of fenestration companies and projects in its Annual Awards event, held at One Whitehall Place last week.
Read More
Glasstec
SWISSPACER reports a successful glasstec show where its AIR product was the main attraction, and visitors saw how this component can regulate air pressure and help prevent sealed unit failures.
Read More
The Glass and Glazing Federation reports a busy and productive exhibition at glasstec Dusseldorf where around 200 guests including members, visitors and media were offered information and technical guidance.
Read More
Exhibitions
Q-railing will showcase two new product launches, its Easy Alu, a railing with lightweight aluminium posts, and the Easy Glass Prime all-glass balustrade.
Read More
Marketing
The EPWIN WINDOW SYSTEMS Advent Calendar event is back for 2018, with a prize to be won every day by one draw entrant chosen at random.
Read More
Glass
GUARDIAN GLASS EUROPE has launched an online Product Selector that allows glass processors, architects, designers and cladders to find the most suitable Guardian Glass product for their project.
Read More
Charities
THE GLAZERITE UK GROUP annual charity Race Evening at the Wolverhampton Racecourse this year raised nearly £600 for The Lewis Foundation.
Read More
The entire workforce at ULTRAFRAME have created a fund-raising calendar to buy a special wheelchair for a colleague who became paralysed from the waist down after a paragliding accident earlier this year.
Read More
More than 400 Sid the Seal toys, based on the mascot of North East installer WARMSEAL are being shared out among young carers around the company's base.
Read More
Organisations
The GGF has paid tribute to Dr Bernard Lowe one of its longest serving members and greatest technical contributors, who is retiring after 58 years in the industry.
Read More
Andrew Madge,
managing director of GOWERCROFT JOINERY has been appointed to the Executive Board of the British Woodworking Federation.
Read More