Four-storey glass cube

30th May 2017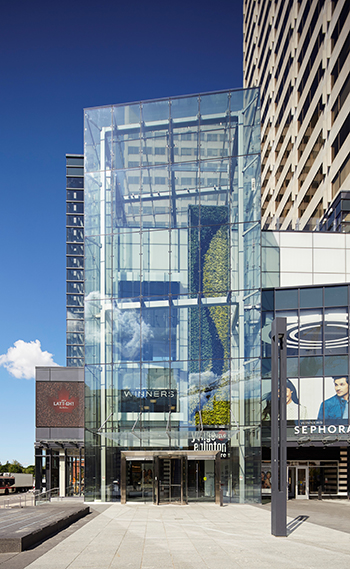 The newly refurbished Yonge Eglinton Centre in Toronto, Canada includes a four-storey structurally glazed cubic atrium space based on double-glazed units of PILKINGTON Optiwhite low-iron glass.

The cube, which sits at the foot of a 40-storey skyscraper, projects above the roof of the centre, providing access to a rooftop patio which is surrounded by glass walls to provide a safety barrier for visitors without interrupting the views of the city.

At ground level, a glass canopy projects over the entrance doors, supported by a custom designed stainless steel rod structure said to give the impression of an almost free-floating glass ceiling.

A second canopy has been installed above the exit to the roof patio, featuring vertical glazed fins to achieve almost complete transparency.

The atrium walls are constructed from individual sections made up of six four metre double-glazed units. Pilkington Optiwhite low-iron glass was used, and the inside of the outer pane in each features a low-e coating to deliver better thermal insulation by reducing outward radiation of heat.

An argon-filled cavity in the units further increases the thermal insulating properties of the glass, which will help reduce the amount of heating required during Toronto's cold winters.

The units used for the roof of the cube are also extra-clear low-iron glass with a low-e coating and argon cavity, but feature a laminated inner pane to provide greater structural integrity and security to remain in place in the event of any breakage.

The units that make up the cube are supported by a steel beam structure to which they are point-fixed with Pilkington Planar 905 low-profile stainless steel fittings. Additional strength is provided by full-height vertical laminated glass fins.