Recycling plant reaches full production

8th January 2019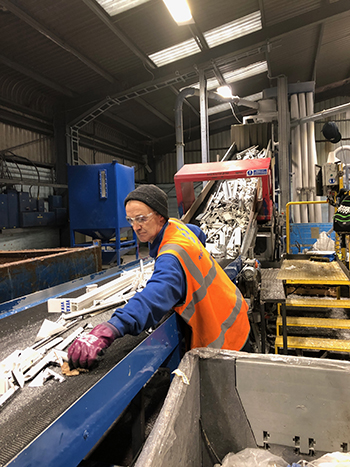 Veka Recycling has begun full production at the its new £8million facility in Wellingborough, Northants, the third such site run by specialist subsidiary Veka Umweltttechnik which brings the group's global capacity up to 100,000 tonnes a year of recycled PVC-U.

The 5.5 acre facility, acquired last February, is now converting full loads of virgin, post consumer and industrial profiles into PVC-U compound since it was, and it now aims to become Europe's most advanced specialist windows recycler following further investment and development planned for the coming year.

Managing Director Simon Scholes said: "It took many years to find what is the perfect site for our requirements but we are on schedule to build a facility that will be totally self-sufficient and capable of recycling in excess of 25,000 tonnes per annum by the end of 2019."

The Wellingborough plant will be the third to be built by VEKA Umwelttechnik the recycling subsidiary of VEKA AG, along with its originalplant in Behringen, Germany, and a unit in France.

"VEKA Group made the commitment to invest more than £8 million at Wellingborough after the Brexit vote was known and is fully committed to the UK market, irrespective of the status of the UK relating to Europe," Simon added, "There is very real belief in and commitment to both the concept of recycling and to the UK window and door market," he added.