Gloucester bus station

8th January 2019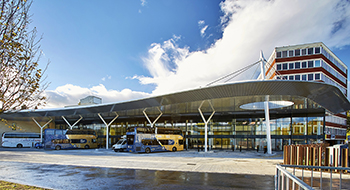 Architectural glazing systems by KAWNEER were specified for a bus station at the heart of the regeneration of an area of Gloucester.

Kawneer's AA100 zone-drained curtain walling, AA720 doors and two types of windows – AA540 fixed lights and AA3110 horizontal sliders – were selected by regular Kawneer specifiers BDP architects for the £6.6 million project based on a single roof element resembling an aircraft wing as a homage to the city's aviation history.

The facility includes bus stands for 12 vehicles arranged in a chevron format to allow a drive in, reverse out operation. It is also equipped with solar panels to power internal lighting and has been designed to be fully accessible for people with disabilities.

The roof wing also has an aerofoil section and is punctuated at several points to allow further light penetration to the concourse and bus stands.

Built on a brownfield site next to the old bus station, it will serve as a new gateway to the city, replacing the dilapidated building which had stood largely unchanged for 50 years.

The Kawneer systems were installed over 15 weeks of a three-year build by a team of six from approved dealer Aluminium Sashes for main contractor Kier Construction.