£4million contract win

6th February 2018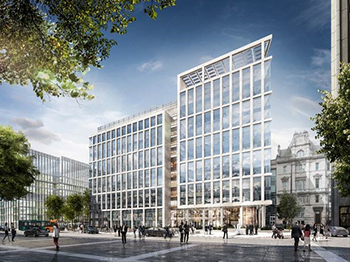 Cardiff-based DUDLEY'S ALUMINIUM has secured a £4million contract to support the development on the latest Central Square project later this year with Rightacres and main contractor Sir Robert McAlpine.

Engineers from Dudley's Aluminium will install Kawneer capped curtain walling and doors throughout Six and Seven Central Square, as well as revolving doors, automatic swing doors and fire rated screens.

The company was also involved with the construction of One Central Square, the BBC Cymru Wales Headquarters and Two Central Square.

Managing director Colin Shorney said: "We have already been involved with other buildings at the site over the last two years, so to secure the contracts to work on the development is incredible, and we look forward to getting started.

"It's unbelievable looking back and seeing how much the landscape of Cardiff's city centre has changed and we are proud to be so heavily involved in a project that will provide a real economic boost for the city. Completing the development will be a real landmark project for our company."

Six and Seven Central Square are the latest office developments in the heart of Cardiff's city centre and will provide approximately 300,000 sq ft of new office space. The development is located where the former printing press and head officers of the Western Mail were located.